Genoveva Umeh played the role of Timeyin in the Netflix series, 'Blood Sisters'. She essayed the role so well that viewers continued to applaud her for her spectacular performance. It's impressive that she's getting due recognition for her talent. It seems like something about right timing because 'Blood Sisters' isn't the first big-budget Nollywood production that the Law graduate would be part of.
In 2019, Genoveva played the role of Ezinne in Stanley Obi's 'Blameless'. She was astounding. The same year, she was seen on screen as a young lady in the RMD-Omoni Oboli starrer, 'Love is War'. There's more to this youngster than meets the eye.
So, this edition of TFC Chat is a thrilling look into the craft of the bonafide breakout star of Blood Sisters, Genoveva. She speaks to TFC Editor, Yousuph Grey about her journey into Nollywood; sneaking out of school in the UK to film in Enugu State, and the creative process behind her character, Timeyin, that turned out to be a fan-favorite, off the Netflix limited series.
*This interview has been minimally edited for brevity and clarity.
---
You Can Watch the Video of the Interview with Genoveva Umeh Below
---
Grey: Thank you so much, Genoveva, for being on The Film Conversation. So, I want us to start this way. I don't know if this was the first scene that you shot for in Blood sisters, but I know that as an audience, our first introduction to you in that film was at the Dinner table scene where you just showed up in the frame and you yelled, 'what did I miss?' So I'm going to use the same line with you as well and ask that, Blood Sisters dropped in May. Between May and now, what have we missed?
---
Genoveva: [laughs] Between May and now, I mean, I worked in South Africa. I shot three films in South Africa. I've been prepping for a new film. Yeah, I've seen my family. My parents visited Nigeria. So, I was in the East with them for a while. So, yeah, I had some good family time. Yeah, that's really it.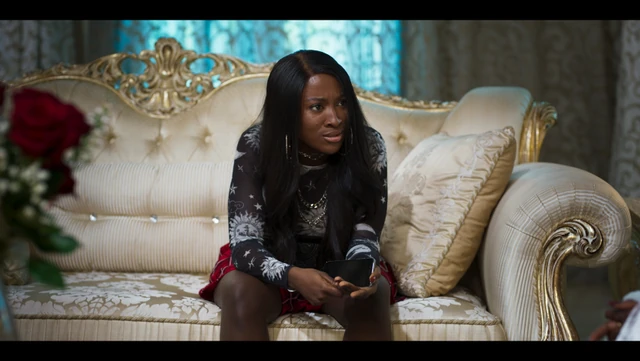 ---
Grey: So at this point, I think everyone agrees that Timeyin is the breakout character from Blood Sisters. It's like we didn't see that coming; more because you embodied it completely. How did you get the role?
---
Genoveva Umeh: I was at Ebonylife Creative Academy, beginning of 2021. I was part of the first batch for Acting. I mean, the Directors would often write a bunch of pieces and then volunteer actors would volunteer to work on the script or would do many auditions. So we did mini auditions, and I did this short film in school. It's about this girl who is visiting her therapist. And she's lying that she hasn't fallen off the wagon but she has. And at the end of the conversation, she's completely honest. And I think Kenneth saw that performance because he partly directed it. So, he just kind of told me about this film. And then I just had this audition in two days. Like, in two days, I had this audition. I remember Kenneth reading to me what a powerhouse this character is. And also, she's so deserving of much research, so deserving of being multifaceted and really fleshed out. It was just such a good opportunity. And again, based off Ebonylife Academy and in terms of everything I've learnt about auditions prior to that moment, I felt like, yeah, I wanted to do myself proud. But I also wanted to enjoy my audition. So, yeah, that's what I have to do.
---
Grey: That's really great. So on paper, my next question to you would have been, how best would you describe Timeyin? But beyond that, I think I'm more curious about something else. What was the brief that was given to you about this character?
---
Genoveva: She's this feisty girl dealing with substance abuse, wants to take over family business. Yeah, that was it. That was the brief.
---
Grey: Okay. So, what would be your best description of the character then?
---
Genoveva: I would describe her as a young lady with a lot of love to give, seeking validation from her family, seeking validation, seeking support. But with that, she's loving and extremely ambitious as well.
---
Grey: Extremely ambitious! So how different or similar do you think you are to Timeyin as a character?
---
Genoveva: I mean, I feel like I wear my heart on my sleeve, and I feel like Timeyin does that too. She does that especially with her relationship with her brother. I feel like we're just slightly different in where we would go to seek love and seek validation. She would completely rely on narcotics or substance abuse just so that she feels she's rid of any pain that she feels. Right! Whereas, obviously, I have family. I would like, just talk to them.
---
Grey: Yeah, you do have family! I mean, you have a younger brother that you speak about in almost all of your interviews. Almost!
---
Genevova: [laughs] Yeah, yeah! He's, like, 13, and I feel like I literally pour into him, and I want to pour into him. And then, of course, family, friends, and God; with God not being the least on that list.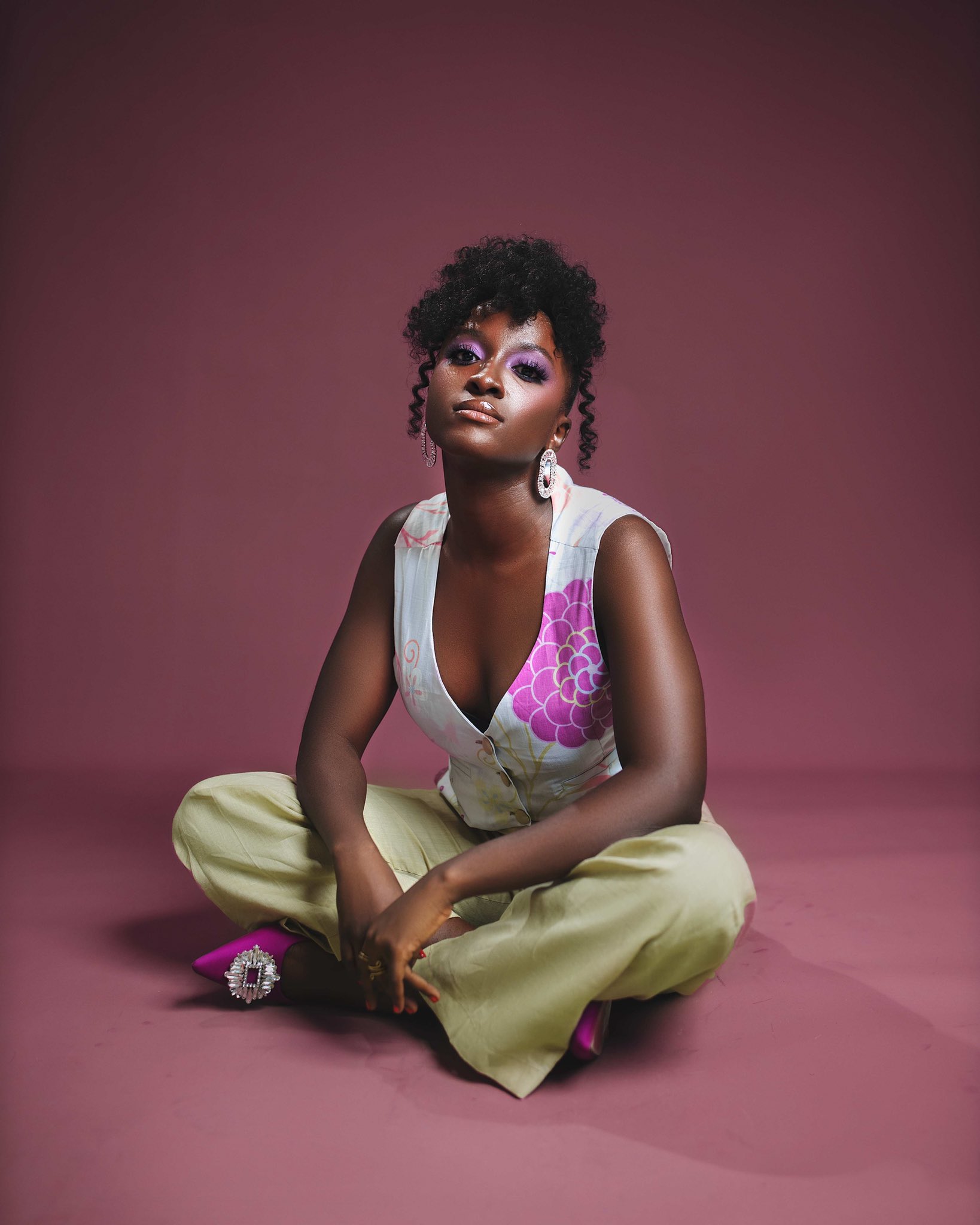 ---
Grey: Okay. So, Genoveva, I stumbled on a post of you where you mentioned that in the documentary of Viola Davis; she was talking about her character in 'How to Get Away With Murder'. Then she said that, that character really changed her. You said the same thing about Timeyin changing you. I'm curious; in what way?
---
Genoveva Umeh: I feel like the difference between being, like, a professional actor or an actor that's kind of recognized for their work really is in ownership. Right! And I felt like with Timeyin, I really owned her. I brought ideas for this character. I was invested in how she thought, what her life is like, what she's feeling in the moment, how she would express how she's feeling on screen. And I feel like for a long time, for example, actors were kind of, at the mercy of Directors or at the mercy of the next job. This time, I didn't feel like I was at the mercy of any job. I felt like I really owned that I am an actor. I am an expert at this, and I want to do this character justice. And I think that's kind of how I'll approach every other character moving forward. I'm not saying that I probably don't have doubts. I still have doubts, yes, I still have moments like that. But it's not to the detriment of my craft. It's primarily for the character. It's me thinking, I hope I'm doing her justice. I think that was it for me.
---
Grey: Awesome! Talking about Timeyin, I think that over the film, she also had very deep and intense emotional moment. One that shines through the most for me would be the scene where there was a video playing on the TV. And it was the burial of her brother. And she just sat there and you started seeing tears flowing.
---
Genoveva: Right.
---
Grey: That got me. What was going on with you at that moment? How were you able to emote? I mean, I know it's a job as an actor, but was there any part of you that you have to connect with in order to emote naturally like that?
---
Genoveva: Okay. So thing, with these scenes, especially with the rehab scenes, I made sure to really not speak to anybody. I didn't speak to anybody while filming the rehab scenes.
---
Grey: Damn! Really?
---
Genoveva: Yeah. Nobody.
---
Grey: Oh. And how long did the shooting at the rehab take place for?
---
Genoveva Umeh: We had a few days. I wasn't on set every single day. It was just like, days that I would be on set and it would be the rehab scene. I just didn't speak to anybody. And there was the crew, but it was just primarily me as the cast. But the crew were understanding as long as I said, oh, I'm just not speaking. And they would just go, 'yeah, it's okay'. And everybody would be really respectful of that. So, I didn't speak to anybody. And again, that's because I've kind of noticed my process. My process is to really respect what I'm about to do. And it doesn't matter who's in the space. I don't try and make anybody happy, especially when I'm about to do this work. Right! I'm really bubbly outside of action or a few minutes action. Like, I'm really bubbly, but just so I can do it justice. I just need required silence. And again, that scene, we did that one time. Biyi asked me if I wanted another one, and I was just like, I'm okay as long as you're okay with the scene. He was happy with it. With emotions, it's just, about feeling exactly what it is for me. I'll tell you, when I was 16, I still dredge up how I got lost in a bus. I used to dig up those emotions like, dredge it up, but now it's really unhealthy. So, I just deal with what's going on. I really rely on the empathy of the scene and the character, like, feeling this is somebody that you care about. And as long as I think about that and I feel that empathy, then I'm like, yeah.
---
Grey: That's quite brilliant. So, tell me Genoveva, what's the best compliment you've received so far about your performance in Blood Sisters?
---
It's the fact that they believed her! That they believed her and they felt sorry for her. And, I think that's kind of the best compliment. Because you can play a character that's dealing with all these issues and it's easy for people to judge them. But because she may have so much at heart and you can tell where her motivations are coming from, people kind of really liked that. They wanted to fight for her, root for her. And I think that's awesome.
---
Grey: I think people can also see through her struggle for acceptance and validation.
---
Genoveva: Exactly!
---
Grey: Now, you are from Anambra State but you schooled in the UK. After your gradation in 2018, you practically just packed your bags, came to Lagos. For context, Genoveva, you don't even have a family home in Lagos. That's quite daring. Where did you get the energy to want to take that risk and just come around and try the waters here?
---
Genoveva Umeh: I mean, what I mentioned in terms of storytelling that I feel like Nollywood could improve on, is literally minute in comparison to living in the UK and having to deal with diversity issues as an actor. Even, when I was doing it part time, because I was studying, I wanted opportunities to be on screen and go for auditions. It was primarily to fill the space of the black demography. You know, there's that one black girl that has in a non-speaking role, talking to her white friend in the club. And that's it! Like that's it for the entire film. And I don't want to spend my time filling those kinds of roles and never quite understanding my potential or working on my craft. Right! Because the more you do, the more you get better at things and you understand how film works. So, yeah, we have a lot of diversity issues in the UK. So I just wanted more opportunities. And again, I love Nollywood, right! I would watch Nollywood from YouTube; when Iroko TV was on YouTube. And then when it became an on demand service, I'd watch that, I'd watch that. And then there were people that I saw. I saw, Adesua Etomi in 'Knocking on Heaven's Door'. And I quickly fell in love with this woman. And to find out that she went to a uni, that's close by. I was like, wait, what?! You can be doing film. You can be really acting and be successful and really get to show your work and work with people. You know, get to work with Nigerians in Nigeria that are actually creating films and having great stories that weren't fueling any stereotypes or any false stereotypes. Yeah, it was pretty cool to see that. And that was pretty inspiring. I remember speaking to the legendary DJ Abbas, right? He's in the UK. I called him, I was like, please, I know that you're a film consultant. I just want to help whenever there are films. I know that you have a lot of films in the UK. And he said, oh, sure. He said, 'what are you doing?' And I'm studying Law. He said, 'why don't you be an entertainment lawyer?' And I was like, 'I don't want entertainment law, but just anything you can have. I'll come. I don't mind. Please.' And he let me. He said okay, come. And each time there was a premiere, he would invite me and I would sell tickets at the door. They do films from Omoni Oboli's 'First Lady' to 'Jenifa's Diary' that came along and I worked at the ticketing stand. And then as soon as the ticketing was done, I'd come in and ask a question during the Q and A . And DJ Abbas was always kind to give me the first or second opportunity to speak. And he's an amazing interviewer. I just have to put that out there! Like, my God, he's incredible! So I really do have to credit him because I really got a lot of my questions answered because of him. And that made me feel like, yeah, when I graduated, I want to come back. I did a lot of networking. I'd watch films and I'd speak to Directors. I'd speak to Producers, speak to the Actors if I felt like their performance was incredible.
---
Grey: You were doing all that?
---
Genoveva: Yeah! And these guys were, like, really cool. I mean, Ozzy Agu, I've been such a huge fan of that man since I saw him in Desperate Housewives Africa. Yeah. So many people! And then I got to work with Stanley, a bunch of other people. In 2016, I came back. I did this series in 2016. I left my first year halfway through to come and film. I know! Can you imagine?! That's wild. I left and just came shot for like a month and then I left, I went back home. I was like, when I graduate, I'm definitely returning.
---
Grey: That's impressive, So you've mentioned that a lot of these people, you grew up watching them on screen. I wonder what that experience is like, sharing screen space with actors like Ramsey Nouah, Kate Henshaw and the rest of them. What are they like on set?
---
Genoveva Umeh: Unbelievable, actually! These are actors that people have on their bucket list. You're like I want to work with you. I saw Deyemi Okanlawon and I'm like man, I have to work with this guy. He's so cool, so amazing, so sick, so sleek, such a good actor! So, yeah, it was simply unbelievable. And then they were also extremely professional, extremely hardworking and disciplined. There was a lot to learn from them. I'm grateful that I got to ask a lot of questions. And they were open to answering those questions. I wish I could say that it was intimidating to be on the same set with them, but it wasn't. Like I said, I have kind of grown and gotten to the point where it's like, this is the character, and I am this character, and it's not about Genoveva and how she's feeling in this moment. It's not about me. It is about this character and became the whole foundation of the work. It was easy to just get to that space and work. Yeah!
---
Grey: So, they made it easy to do and you don't become overwhelmed by the presence.
---
Genoveva: Yeah! And they're really cool as well. Like, they're really cool!
---
Grey: I mean, I wonder what your relationship is like with them after shooting and you're done for the film.
---
Genoveva: Oh, for sure! I feel like Mr. Ramsey is a ghost. He's undercover. You know what I mean?
---
Grey: I completely agree with you!
---
Genoveva Umeh: Yeah, he's undercover, man! But, yeah, he's still amazing. Even if I saw him at an event, he's still so warm, so encouraging. Nancy, I speak to often. Gabriel Afolayan is my G! And of course, Deyemi is always my G. So, yeah, I have good relationships with all of them, I think.
---
Grey: Okay. So, I mentioned the other time that you had worked with Deyemi Okanlawon before. Did that help with building up the chemistry that was needed between Timeyin and Kola?
---
Genoveva: Ehmmm….it helped a lot because there was a familiarity there. Right! He was one of the people I DMed. Like, I actually DMed him. I'd even sent him, like, a video. You know, especially people that I find their work really good. I needed to compliment them. I was such a complimentary person, genuinely, and I still am. If I find something amazing and I feel like you did something that I thought was interesting, I would tell you. So, yeah, I told him, and he gave me feedback on a particular monologue. Then coming to Nigeria, I finally worked with him on 'Blameless', as a father-daughter duo thing. And he's an actor. He allows for those conversations. He gives you a lot. You know, there's a give and take when you're working with Deyemi and just knowing that I felt comfortable having worked with him and then meeting him on Blood Sisters. He says it all the time now, like, 'you've played my daughter, you've played my sister. I wonder what you'd do next.' And I'll go, 'Deyemi, please don't do this.' So, yeah, he's a good spot, for sure.
---
Grey: Okay. So, let's talk about the climax scene in Blood Sisters. I'm curious about the shooting for that scene. How was it like?
---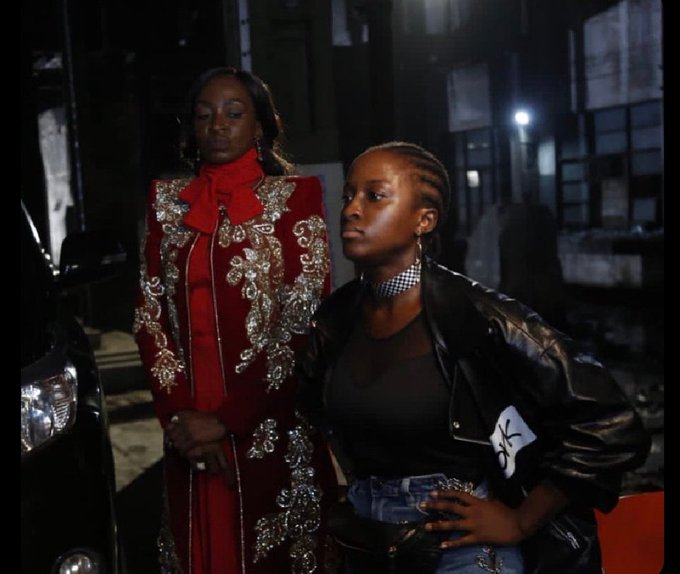 Genoveva: Yousuph, it was so interesting! So, it was definitely the final scene that we shot on the entire film. So, it really did make sense. And I like that. I like that because I remember getting to set and I hadn't been on set for a couple of days. It was like when you're like, okay, this is the final scene. Like, do I still have Timeyin in my head? Do I still have her journey? Especially when you're not filming every day. You're filming on the 16th and you have to come back on the 23
rd
; something like that. I remember we got to the location which is somewhere on the mainland. I think it's old NEPA space on the mainland. I got into makeup, hair. I do remember feeling like, wow, what's an important scene. And how hard I've kind of imagined this scene. I've imagined what I wanted to look like, but at the same time, it was like, okay, I don't know if I will be able to go there with her. And everybody's getting ready. Then,
Kenneth
comes with it. I remember. We start the scene, especially the one where Timeyin is standing next to her mother, and then the car pulls off. Then Kenneth said, there's a sense of urgency with this scene. That's what he said. There's a sense of urgency. There's a sense of chaos, right? And in your head, there's chaos. And I was like, wow, you're right. I know there's chaos. There is chaos because my plans are completely different to what everybody else is thinking. I don't know, but somehow I know I need to stop this. That's what I'm thinking at the time. And I just thought to myself, okay, somehow I start pacing, right? I start pacing, and then it goes to this thing where she has a hand on her head, and then that was it. We started with that flow. We shot that first, and then it was like the final thing where everybody was kind of in the space together. We had, like, loads of takes, but with the same energy every time. I think we shot it the first time, and to me, it sounded like lines, right? And I hate lines. It needed to sound genuine and authentic and sound like it's really coming from this person. And she means what she's saying. And then I just kind of let go. I got out of my head. I got out of my head. Honestly, Yousuph, I don't know how to explain shooting that scene, because even when I left, I felt like I don't know if I got it right. I really felt like, I don't know if I've messed it up. I felt like I messed up my take. I really felt like I didn't have it. And I remember I even reached out to Kenneth to say, oh, 'this how I felt'. He just messaged me and said, 'you did amazing today'. And I was like, wow, thank you; even though I don't believe it. Thank you. Honestly, I do a take, and I don't believe that. Oh, I got it. I never feel like yes. Smash it, man. I never feel like that. And it's, like, so sad because I don't know when I'll ever feel like that.
---
Grey: I think it comes with your growth as an actor. But does it bother you?
---
Genoveva: Does it bother me? No. It means that there's always more. There are different ways to do a take. There are different ways to share how you're feeling. So it doesn't bother me as much.
---
Grey: And when you are in good hands with the director; Kenneth Gyang in this case, you don't bother much. Do you?
---
Genoveva Umeh: Yeah. And the Director is cool. I just remember just doing something, like really feeling what Timeyin was feeling and channeling that energy. Like, at this point, we always knew she was going to go bonkers. And I have talked about it a couple of times. The day before, I even sent him this video of how to handle a gun. It was a video that I saw on YouTube. It's just, I'm going to find out how to hold this gun correctly just in case I'm not holding it well and I'm pressing it down. But yeah, aside that, everybody gave that energy. And I do have to commend Gabriel because I did this take, and I think the camera wasn't even on me, and he just said, yeah, keep that. And he literally hugged me after the take because I went there and it was too hard, and I started crying. I felt so emotional. I'm getting emotional now. But yeah, it was just really a good moment for me to feel comfortable, and I felt seen in that moment.
---
Grey: That's great! Genoveva, I've seen a couple of your other works. But I'm not sure if there's any of them that is as intense and draining emotionally, as what you had to do in Blood Sisters. So, how do you deal with those accumulated emotions when you're done shooting completely for a film?
---
Honestly, I don't know. I honestly don't know how to answer that question because it's like I don't know if I have a formula yet. I think that's the best way to answer it, because I would like to say that I would go out with my friends or, like, hangout with family, but, like, family is not here. So I just kind of go back to studying whatever I'm studying or watching whatever I'm watching, auditioning whatever I'm auditioning. And again, with Ebonylife Creative Academy, they kind of teach you to step out. There's a particular thing that you do when you're done with each scene. Sometimes you do need to step out. I think that really helps to just get out of the emotions of the day. I think I listen to my favorite music. I listen to my favorite music. I love home. As long as I'm home, I feel like myself. I do go back home. Go back to, like, comfort.
---
Grey: I sent out an email blast to a couple of industry friends telling them, oh, I'm having a chat with you, and anybody has a question to ask you on their behalf. And there's this particular one that came in from the friend and he wanted to know what went down at the bathroom scene. He's more particular about how were you able to submit yourself to shooting a scene like that? Well, I must say that I kind of answered on your behalf and said, well, most likely you had a body double. And even if you don't have a body double, you just have to do what you have to do but you're an actor. But I'm curious now, so we can get to know what the correct answer is.
---
Genoveva Umeh: Yes, for sure. You gave a really good answer, Yousuph, because I did have a body double. But I also think, that's the truth of her character, that's the truth of what she's going through. That's the reality for a lot of people, especially those who live in Nigeria or get put in places that doesn't necessarily help them or speed up their recovery. So, like I said, I get out of my head. It's not about me. It's about the character. And with that, I love acting. Like, if I would live in the characters, that's the truth of her experience.
---
Grey: Awesome then. So, to wrap this up, what's next for you, Genoveva?
I'm doing a feature. I'm currently working on a feature or prepping for a feature film. It's another original. I'm so excited. Just kind of like I'm dreaming new dreams. Then, putting a plan in place as to how to achieve this.
---
Grey: Have you had offers thrown at you just because of the role you played in Blood Sisters?
---
Genoveva: Yes, I've had a few offers, but I also take my time with things like this. I don't want to stretch myself or still be in the same process. I want to take on more than I can handle. I'm not going to be too greedy about it. Just do films that kind of call out to me or I feel like I should take on project with people that I respect. Yeah, I'm taking it a day at a time, but I'm also enjoying every moment of it.
---
Grey: And I think enjoying it is the most important thing. That's awesome, Genoveva. I'm wishing you all the very best from The Film Conversation. Thank you so much for your time. Thank you for doing this with us.
---
Genoveva: Thank you so much, Yousuph, for having me. I enjoyed this conversation. It was awesome.