Biyi Bandele called me a child and we both let out a burst of boisterous laughter that went on for about thirty seconds. I didn't know our conversation would ever swerve to that because I had drafted the questions around his newly directed movie, 'Blood Sisters', which has been considered Nigerian first Netflix Original TV Series, and none of the questions had the shape that would lead to Biyi asking for my age, or to even call me a child.
He called me a child when he was narrating how he sought to meet Wole Soyinka at the University of Ile-Ife (Obafemi Awolowo University) as a student of Theatre Arts after reading one of Wole Soyinka's poetry collections and getting to know that he was a lecturer there. Unfortunately, by the time he got admitted, Wole Soyinka had retired four years earlier. But he met him six months after.
When he mentioned that Wole Soyinka produced a music album that I had never heard of, I asked, "Wole Soyinka made a music album?" He said, "Yes, yes. Oh, you don't know that? How are old are you?" I told him I am 22 and he said, "aah, you're a child". There was a popular song in the olden days that read "If you marry taxi driver, I don't care" by Bobby Benson, Wole Soyinka wrote the lyrics to that song.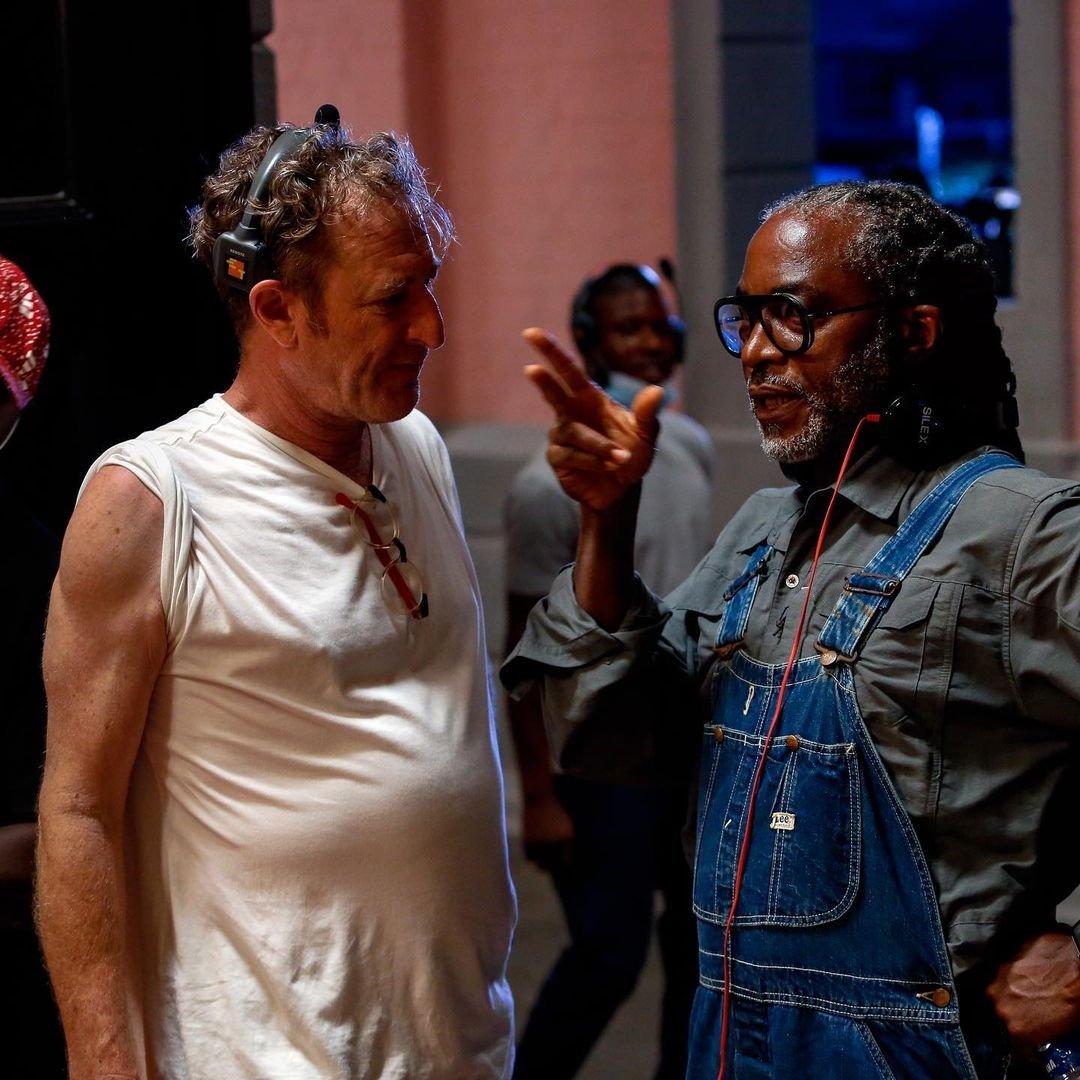 At 54 years old, Biyi Bandele is writing a book. Though that would not be his first book. After authoring a couple of books, including '
Burma Boy
', his 2007 novel
reviewed by Toby Gould
for The Independent, as 'a fine achievement', that actually compensates for how he described himself over a phone call from Osogbo to his flat in Lagos when he said "I have been writing all my life" and writing is something he will forever do, whether as a book for the world to read or as a movie for the world to see.
In this interview, Biyi Bandele ran us through getting his role as the director of Blood Sisters, how he started his journey as a director, and his prospects for the Nigerian movie industry, Nollywood.
---
Ahmad: I would love this interview to be interactive as possible as I know I would definitely learn a lot from you as an emerging writer. So, can you briefly tell me about your journey as a writer and as a director?
---
Biyi: You know, basically I've been writing all my life. I had my first short story published in a newspaper in Jos called The Sunday Standard because I was born in Kafanchan, which is about thirty minutes drive from Jos. I knew I wanted to be a writer at a very young age. But I had no interest in directing. I knew I could become a writer because there were mentors. There was Wole Soyinka, there was Chinua Achebe, and all writers in the African Writers Series whose works I read. So writing was a possibility. I didn't know any directors. But I saw a lot of films. In Kafanchan, we had a cinema that showed Bollywood, Hong Kong, and Bruce Lee-type movies which we all loved. And I didn't see a play in the theatre until I was sixteen or so when I moved to Lagos. My ancestral home is Abeokuta. I saw a play at the National Theatre and I remember being blown away and really liking it. Then I went to study Theatre at Ife; not because I wanted to be a playwright but because solely it was mentioned in the blurbs of one of Wole Soyinka's poetry collections that he was a lecturer there. I got there and found out he actually retired four years before I got there. But I met him less than six months after that. Then I moved to the UK and that was when I started getting interested in films. There were lots of cinemas, and video stores in London, and then I wrote a screenplay with Danny Boyle, which he directed and through him, I got interested in directing. And then I started my apprenticeship and for like, I kid you not, 10 years, I was watching like four films a day. At some point, I had seen every film in a glass section and there were thousands of films, you know. Through doing that, I realized what kind of storyteller I was. I started writing screenplays for other people and at some point, I felt I was ready to direct. 'Half of a Yellow Sun' (adapted from Chimamanda Ngozi Adichie's Half of a Yellow Sun) was my first feature.
It took about seven years for that to happen. And then when it came out, people tried to destroy it for a number of reasons and bury it. It kind of almost broke me. It was brutal. But I continued working. If I hadn't done that, I definitely would not have been asked to direct Blood Sisters.
---
Ahmad: On that, can you tell me how you got to direct Blood Sisters?
---
Biyi: I met Mo Abudu at a party for Chiwetel Ejiofor who worked in 'Half of a Yellow Sun'. I knew of her but we didn't really know each other. She told me she's been trying to get in contact with me and I said "Really?" She said she's seen 'Half of a Yellow Sun' and she wants me in on something. I told her to send it to me. I got back to London and a few weeks later there was a screenplay called 'Fifty'. A very long script about 160 pages if I remember correctly. I saw the potential in it but I felt like it was too melodramatic in the worst sense of the word. I said to Mo, "Can we get someone else to rewrite it?" And we got someone to rewrite which just, simply, didn't improve on the script that I had but increased with new problems. I said to Mo, "I will rewrite this myself".
So based on the materials, I wrote a new screenplay that was less than 50 pages. It was meant to be a feature but then I was directing it and it took us two to three days to shoot. So I continued my work on the right, doing other stuff. And then Mo got in touch in 2020 when I was in New York and asked if I would be interested in directing another project, not
'
Blood Sisters
',
which got pended because Blood Sisters came along as someone handling it pulled out. I didn't ask why and who the person was. I think it was South African, I was not even concerned about that. Mo Abudu phoned when I was writing a book in New York on like Friday night and said she needed an answer on if I would be interested in '
Blood Sister
' on Monday. I requested a summary of the story and I liked it. When they sent me the script, I knew I was going to have fun with it. They already cast, everything had been done, the only thing left for me was just to direct. I gave it my 100 percent because I had never worked on something like that. Normally, I would develop, write and do the casting but I didn't do any of that. It was an opportunity to check myself as a director. It worked out really well.
---
Ahmad: It worked really well. It is topping charts in North America and even the United States and other countries.
---
Biyi: It is actually the number one show on Netflix in the world right now.
---
Ahmad: So, urhm, let me quickly ask something from what you've discussed earlier. You started as a writer and then you picked up filming. As a creative, how have you been able to blend into combining all those?
---
Biyi: I'm still a writer, I'm actually writing a book right now. You see, the thing is, I'm a Nigerian and the people I looked up to who I didn't know at that time but knew through their works were also like that. Like Wole Soyinka. Wole Soyinka, when I was a kid, you'd hear about him directing a film, he made a music album, played the guitar really well, activist and others. I assume if you are a creative, you should be able to do everything.
---
Ahmad: So when I was watching Blood Sisters, I don't know if you've read Vagabonds! by Eloghosa Osunde?
---
Biyi: Oh, I haven't read it but I know her, I haven't seen her in many years. I met her once in Lagos like eight years ago.
---
Ahmad: Okay so, Vagabonds! is Eloghosa's debut novel, a novel-in-stories, that narrates, through the eye of a narrator called Tatafo, stories of characters that exist but live in masks. It narrates the stories of some people who, as I understand it, do things they don't even know they are capable of until they get into the circumstance that would bring it out of them. So I kind of relate this to the characters of Sarah and Kemi who obviously don't know they are capable of not only killing Kola, but also killing the photographer and even fleeing away from the whole thing. Do you think that we humans probably hoard some kind of like demons or beasts, if I can say, inside us that we don't know about until we get into a circumstance that would bring force them out? Was that the kind of idea behind the characters of Kemi and Sarah?
---
Biyi: Oh yeah, I mean in the DNA of every human, we find traces of metal, rocks of microorganisms that come from our physique. We come from serious violence, we all have it and when you are desperate, that's when you know how to react.
---
Ahmad: Was that some kind of idea behind it?
---
Biyi: Yeah, I mean, when I was directing, I was working with two really skilled and talented actresses. But I walked in the moment of the story, we talked things through and told them about it, it was fun. It was fun.
---
Ahmad: In Blood Sisters, there's the use of voicemail which we don't have in Nigeria.
---
Biyi: We do. We actually do. I've never had it, but I know people who have it. But that majority doesn't have it doesn't mean we shouldn't. We are not only narrating the Nigerian story; we are also creating stories. I mean, when we were directing, I tried to say that, you know, we don't usually have police rush to a crime scene or have a crime scene thing. We discussed every element. We had police advisors and they showed us photos. When they want to do things the right way in Nigeria, they do, they just don't do it most of the time. In VI, I've seen police cars chasing someone as we see in Bollywood and American movies. I saw it with my own eyes, just two weeks ago.
---
Ahmad: I actually think that a perfect art must not be exactly perfect.
---
Biyi: There is no such thing as perfect. You know, you make choices about how you want to criticize, how you want to tell a story, you know.
---
Ahmad: Okay, to the process of the movie again. You mentioned that they've done the casting before you came in and I am thinking that, as a director, was there a point you feel like a character doesn't align with a role given to them?
---
Biyi
: Oh yeah, that's a very good question. The first thrill was that I was going to work with these talented Nollywood actors. When I was introduced to that, I told myself I was going to make a film no matter what. Having said that, I'm never going to work like that again. But I didn't think about it too much because it was a challenge and I wanted to enjoy myself. Once you think about a thing too much, fear enters the equation. So if I had thought about it too much, I would have been afraid to do it.
---
 Ahmad: So, to the ultimate question; should we expect something like season two or part two?
---
Biyi: I don't know. I don't really know. I don't know what's between Mo and Netflix.
---
Ahmad: So, you've been around for a while in the industry. What difference did you notice from the past to present? What do you think about the future of Nollywood? What are the prospects you have for the industry through Blood Sisters?
---
Biyi: The industry is now full of talented actors like Ramsey Noah, Kate Henshaw, and others who are as good as any actors anywhere, of different generations. The joy there for me is just being able to bring those two generations together. I think Nollywood keeps evolving and it would continue to evolve.
---
*This interview has been edited for the sake of brevity and clarity.