Kenneth Gyang co-directed the Ebonylife-produced Netflix series, Blood Sisters. The series has continued to garner plaudits for its makers. Gyang's previous collaboration with Mo Abudu's Ebonylife and Netflix was also phenomenal. But these feats do not come without criticisms. When TFC Editor-in-Chief, Yousuph Grey got into conversation with him for TFC Chat, the filmmaker shed light on the creative process behind his films; the success of Blood Sisters which he co-directed with Biyi Bandele, and he also responds to the criticism about repeated nude scenes often thrown at him.
*This interview has been minimally edited for brevity and clarity.
---
You Can Watch the Video of the Interview with Kenneth Gyang Below
---
You Can also Listen to this Conversation with Kenneth Gyang on Our Podcast
---
Grey: It's so good to have you on The Film Conversation, Kenneth. The last time I was in conversation with you was in November of 2019, which was a few days after the release of Oloture; a film that you directed. I'm just curious to know what you've been up to between then and now.
---
Kenneth Gyang: Since the last we talked; I made another Netflix series called Far from Home with InkBlot. And yeah, that one is yet to be released. Just like how Oloture was successful, it's the same with Blood Sisters. Because for the first, I think ten days; no, the first four days actually it has eleven million streaming hours. It's incredibly successful. So, yes, those are the two projects I've worked on.
---
Grey: How do you feel about that?
---
Kenneth Gyang: I've always known that if we make the right projects from Nigeria, it will be very successful. And it is just about having the right resources. There are a couple of projects coming. I'm going to direct some and produce some. We just want to give people the sort of indie entertainment that I'm sure they're clamoring for now because right now we have all the streaming platforms in Nigeria. So yes, that's what I've been on to.
---
Kenneth Gyang on Oloture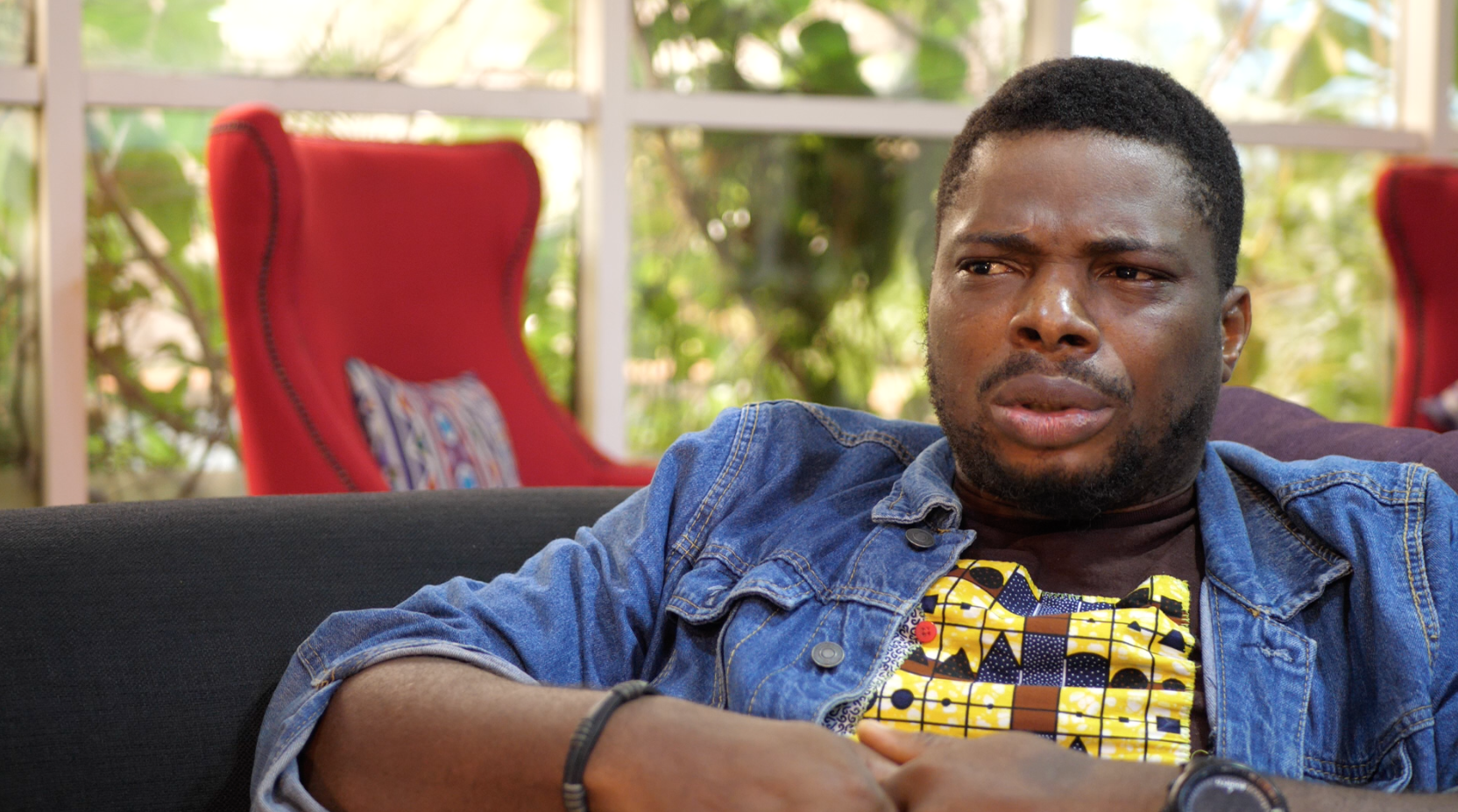 Grey: So, in our last conversation in 2018, which was done with James Amuta, one of the co-producers of Oloture; I had concerns about the film; that this is a very gritty film. It talks about human trafficking. For a lot of people, this is going to be their first introduction to Nigerian films. So, I was concerned about will people not take this as the reality of all Nigerian people. And James was like, see, I don't care how people eventually see this or how they digest it. What is important for me is the fact that we're able to highlight a story like this and then we're able to change how people see Nigerian cinema; not about the Nigerian people. And you agree with him, do you think that's the thing now? Do people have a refreshed idea of Nigerian cinema now?
---
Kenneth Gyang: Yeah. So, Oloture was incredibly successful, right. The numbers that we had in the first 28 days was incredible. So, it really traveled. And I think it was top ten in maybe 28 countries. It made a huge impact in Brazil and France. Those are traditionally very snobbish countries when it comes to films, because you have to make incredibly good films before making an impact there. For me, what James has said is right, because what it has done right now is that you have seen a lot of Nigerian studios thinking really global now in terms of their stories. Back in the day, it was always about the portrayal of a particular genre and everybody is just going towards that genre. But I think what we have done now is show people that when you make universal stories, it can really travel. And our competition now is no more local because our audiences have access to all these international content, to all these OTT platforms at the moment. So, people have really changed their approach towards filmmaking. That's what Oloture has done. And even as a follow up with Blood Sisters, you have seen how well the numbers have been. I think we did a 28-day evaluation and the streaming hours that we have is staggering in millions. So, I can't be able to share specific numbers, but I can say from the first four days, if you see that it made like 11 million streaming hours. And so just think about how many streaming hours that we would have made in 28 days. And a lot of other studios have started making film like that as well, or TV series like that, thinking global, which is a good thing for the industry. So, yes, it has totally changed how people see Nigerian cinema at the moment. Nigerian cinema has really been cutting really great deals. That is testament to how people respect your industry. Once you start getting good deals, it means that your industry is really getting the international respects it deserves.
What ideology gives you is authenticity. And so when you tell a story, people will get to see that this is an authentic experience. And internationally, people will learn about your experience and where you come from.
---
Kenneth Gyang on Training
Grey: Yes, that's very impressive. Now, Kenneth, you studied Film Production at the National Film Institute in Jos, and then you went ahead to Burkina Faso to study screenwriting as well. I'm curious to know, to what extent does this knowledge that you pick up at the start of your career, shape the kind of director that you have become?
---
Kenneth Gyang: The value that you get from Film School is it opens up your mind and you are exposed to a lot of works. You are exposed to literary works, philosophy, psychology. So it's not just about being a technician alone where you know what lens to use or what sort of technical jargon you should use. It's not just about that. It's about how it develops you as a human being and as someone who is a custodian of culture. Okay? So for me, going to Film School is not just about learning just the technical things. It is about opening up your mind because you get to learn philosophy, psychology. You get to read a lot of literature and have conversations with people and how they see film and all of that just because you're a custodian of culture. Now, personal experiences, learning about and reading about a lot of things will shape you to have an ideology.
---
Grey: And how important is that ideology in filmmaking?
---
Kenneth Gyang: What ideology gives you is authenticity. And so when you tell a story, people will get to see that this is an authentic experience. And internationally, people will learn about your experience and where you come from.
---
Grey: This penchant for getting trained, having an ideology, shaping your perspective; is this something you find missing in the industry as it is today?
---
Kenneth Gyang: I'll say that a long time ago it was very difficult for filmmakers from the National Film Institute because it was the only accredited school in Nigeria at the time. It was very difficult for the industry to accept those filmmakers because they feel that they always showcase intellectual arrogance. And it's not always intellectual arrogance. It's just about, okay, I know this is how to do this thing. And once people feel that people are trying to challenge their interpretation of what the story will be; then there will be a problem. So a lot of people from the film school were not accepted in the industry. But I will say that right now, there are a lot of filmmakers that are trained, that are working in the industry. So, everywhere I turn to, I see a lot of people from the National Film Institute. There are people from the TV College and other training institutions here in Lagos, that are now in the industry. So I wouldn't say that it is now a problem. I'm just going to say that it was a problem. But it is fine now that we have actually talked about it and people have seen the needs to be trained before they make films. Now, some of the trainings might not be as great, but at least it's a system. And in that system, you tend to build a team. And it's with a team that you get to make films good.
---
Grey: We're going to talk about Blood Sisters, but I want to do like a timeline of your career so far. And to start with, I said this with no attempt to flatter you, but it won't be out of place to refer to you as one of the finest directors that Nollywood can lay claim to right now. And it feels like your journey so far has been punctuated by excellence, really. Now, here are my facts. Your first feature film, Confusion Na Wa; which is a dark comedy, by the way, won the Best Film at the African Movie Academy Awards and even the Jury Prize at the Pan African Film Festival in LA. Your second film, The Lost Cafe, won the Golden Palm Award for Narrative Feature at the 2018 Mexico International Film Festival. Now, just after that came Oloture, which was so huge and phenomenal, right? I mean, it premiered at the Carthage Film Festival. And I think Carthage is the biggest and the oldest Film Festival for the African and Arab world. Then just right after that, Blood sisters. Kenneth, you're on a roll. It's good to see. My concern is, do you really get bothered after dropping a film? Do you get bothered about what the next thing would be? And if it's going to topple the impact of the last one?
---
Kenneth Gyang: In the words of a philosopher, Jose Mourinho, right; he said don't call me arrogant, but I think I'm the special one (laughs).
---
Grey: (laughs) That's a lot of self awareness.
---
Kenneth Gyang: Yeah but you know what? I'm never under any sort of pressure about what I'm going to make next because I'm always very careful about what projects I select. It's very important. And we discuss ideology earlier because it needs to conform to the sort of stories that I want to tell. So I'm never under that sort of pressure. And I know that if you put in the right sort of, storytelling details that you need in the film, you'll make a good story and people are going to watch it, basically. So, no, there's never pressure to say, okay, now will I be able to attain this level of success again? Again, it's like human development. You want to make a better film than the last one.
---
Grey: So, what comes first for you when choosing the stories that you want to work on? What do you put first; the critical acclaim or the commercial success?
---
Kenneth Gyang: For me, I think that I come from a school of thought where if you're a very good filmmaker, you will make a film that will win all the awards, but then a lot of audience will sit down to watch it as well. Right. And that has always been an opinion about the industry, even when we're really outside the mainstream, from when it was the home video industry, I've always known that if you make a very good film, it's still going to travel to all of these fancy international film festivals, and it's going to cut very good deals in terms of distribution. So for me, I always feel that they go together, but I'm never going to sell my soul to make a film that I just feel is just going to be just for the commerce. Because even within the commerce itself, there has to be some form of art. So when you look at some of the really big budgets, blockbusters from Hollywood, even if you look at the popcorn ones like Jack Sparrow's Pirates of the Caribbean, for instance, right. You also see that there's actually an art form that has been put into it. So they are not just taking caricatures for people to watch because people are definitely going to push back. So I feel that you always have to think about that they just go together. But to make a film without thinking about the intelligence of the audience, I wouldn't make a thing like that.
I remember when we went to AMAA in 2013 and we won Best Picture. Okay. And when we're going on stage, I wasn't showing any form of emotion and someone said that it feels like you knew you were going to win. Yeah, it's because when you're making the film, when you're editing it, when it's going to be out there, you know the sort of impact that it is going to have. So nothing comes to me as a surprise. If I win an award, I just know that okay, it's because I really deserve to win the award.
---
Grey: The reaction and acceptance that Blood Sisters received. It seems like the last time Nollywood had that kind of acceptance was since Oloture. You were the Director of Oloture. You co-directed Blood Sisters as well. So, when we talk about films that seem to elevate the industry and move cinematic mountains, you're always in that conversation. What is that feeling like?
---
Kenneth Gyang: I mean, for me, it's the whole thing that I would say, without being arrogant, I told you so kind of conversation.
---
Grey: Hmm.
---
Kenneth Gyang: Yes, seriously, though because I told you about the problems that people from Film School were having in the mainstream space. There's always the thing that if you make the right sort of film, it's going to travel. I always say that. Right. And you need to always sit down and study whatever you're going to do. You have to put in the work. And the work is by being intentional with whatever you want to put out on screen. When you think about that critically, you'll make films that people will watch and people will talk about. As I said, nothing comes as a surprise to me because I've always thought that I've always been really critical about what I do. So before I put out anything out there; I have to just think about it.
I remember when we went to AMAA in 2013 and we won Best Picture. Okay. And when we're going on stage, I wasn't showing any form of emotion and someone said that it feels like you knew you were going to win. Yeah, it's because when you're making the film, when you're editing it, when it's going to be out there, you know the sort of impact that it is going to have. So nothing comes to me as a surprise. If I win an award, I just know that okay, it's because I really deserve to win the award. If I make a film that is really impactful, it means that I know that I deserve that sort of recognition because I know the sort of work that I put into it. And that's what being intentional is. So Spielberg is working on a project. He knows exactly what he wants to do. And you will even think about how the audience will react when they see a particular scene. You have to be that detailed. It's a formula that works universally.
---
Blood Sisters
Grey: Now let's come back to Blood Sisters. We recently had a chat with Biyi Bandele, who also co-directed the project with you. And he explained that how he got on the project was kind of dramatic. He said, Mo gave me a call on a Friday night when I was in the UK writing a book. She said I need a response on Blood Sisters by Monday. Are you going to be on it or not? And then he sent a mail and all of that and got on the project. And he also mentioned that when he got on the project, the casting has been done, almost everything has been done. So he just has to come around and do the work on the set. Was that the same case with you?
Don't Miss This: Review: Blood Sisters is a Brilliant Peep into the Dynamics of Bond, Rivalry and Violence
---
Kenneth Gyang: No, it can't be the same case because I've always been in the project from the beginning because I was supposed to work on the first volume and there was supposed to be another director, but then the other director was unable to come.
---
Grey: I heard the other director was not a Nigerian.
---
Kenneth Gyang: Yeah, she wasn't Nigerian. But the main thing with Biyi coming in was B was already working on another project for the same studio, for Ebonylife Studio. So he was working on one and so he was drafted in. But by then, yes, we had already done all of that because I was part of the full process, we had reads with the actors and selection. I was there from the beginning, but he came in later because he was already attached and working on another project, that's why. So, no, it wasn't the same thing. People always want that dramatic story but that's not the case. It's the same thing with Oloture as well. From the beginning we did the readings and in fact, when I had an opinion about if we're going to have the right cast we had to just have meetings and do more readings and all of that. So now, even if you're working with a studio, they also have respect for the creative process as well. So the whole story that you hear in the industry about studios not being very open to creative interpretation or creative input from other film directors, it's totally false in my case.
---
Grey: Did anybody at any point has concerns about Biyi just coming on the project at this point; will he be able to understand the vision, the projection that we're trying to create for the world of the film?
---
Kenneth Gyang: No, Biyi came on the project because Biyi is a seasoned filmmaker and Biyi actually understands the world of the project. It is something that he has explored in projects like Fifty. He has even explored it in Half of a Yellow Sun. I've always been a big fan even before meeting him because I've always read his books. One of my favorite African books is Burma Boy and it was written by Biyi, right. Because I'm from the north; I understand also what is going on in the scripts around the time of the war. So, when he showed up, he still had his own creative input because he interpreted the series the way his volume or the first two episodes came out. So it's not like I mean, he showed up late and even showing up late doesn't mean that didn't have input. Biyi also understands working in the studio system. He understands collaboration. So he understands that, okay, yeah, I can trust people that they've gotten the right tools to work with. Now, how do I bring my creative input into this? That is just it.
---
Grey: You directed the last episodes, The Race and the Catch while he directed the first two. To what extent were you both involved in each other's works?
---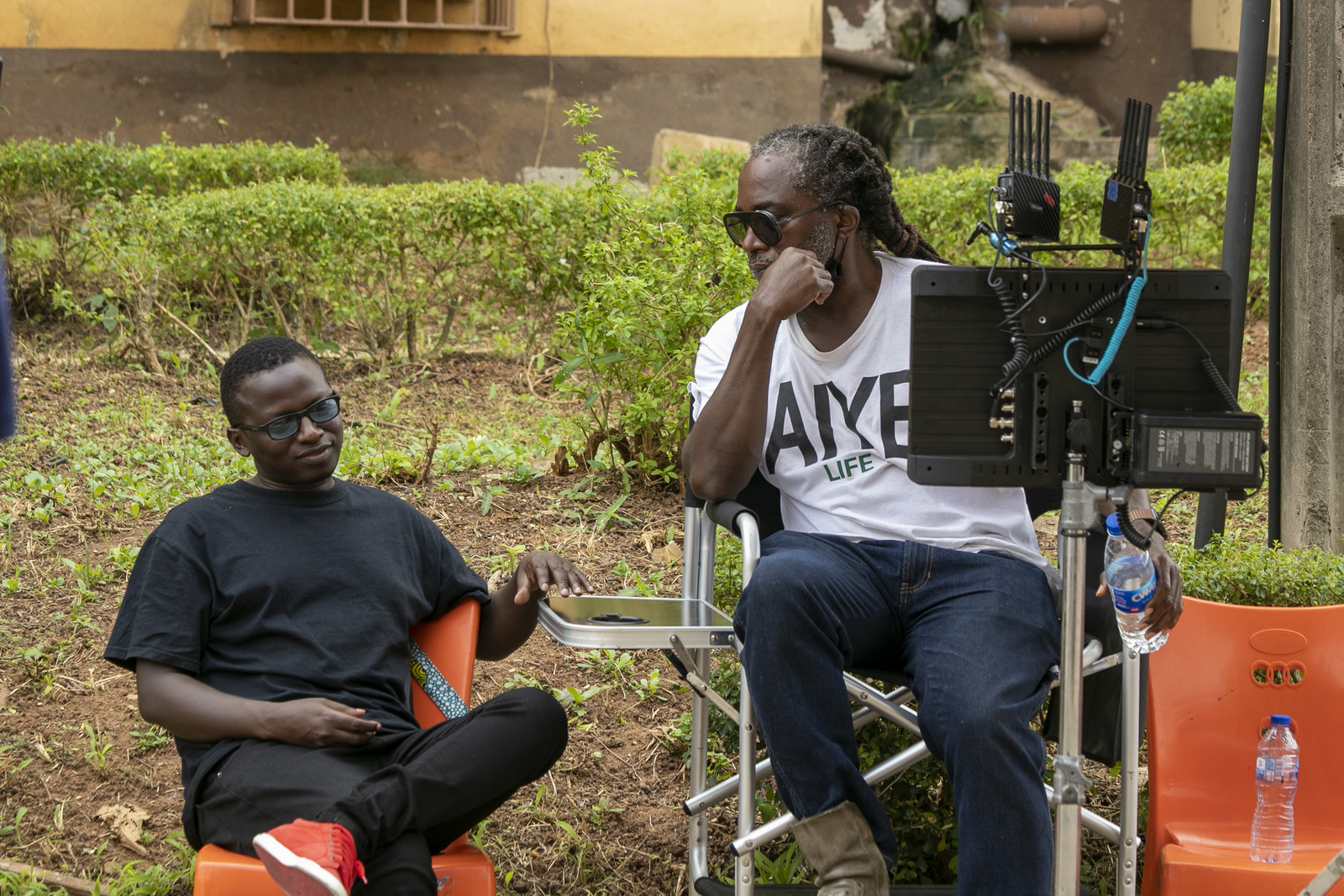 Kenneth Gyang: In terms of choreography, I think it was Biyi's idea to make the fight sequence to be really eye candy and very entertaining. Right. So I had to think about that as well. But then in terms of selecting Uncle B's car, for instance, which is a major character in my episode, I thought about it, that I might actually want to set up like a particular car because there's something I want to just capture and I know how good it's going to look on the road. So, yes, that's the kind of influence. But other than that, we basically just staying apart in terms of interpretation because we wanted to work independently. So we're not just going to meet each other's ideas and stuff. And because creative people always work independently anyways, there's always a parallel line.
---
Kenneth Gyang on Universal Storytelling
Grey: Kenneth, we used to tell stories that are universal many years ago but then in between then and now, there came a moment when our storytelling was quite boxed. But now we are experiencing that momentum again. To start with, what has driven us to this point where we seem to be experiencing a wake-up call to tell stories that can crossover? And then, how can we sustain this moving forward?
---
Kenneth: Look, the economics is really a huge part of the development of the industry. Back in the day, during the time of Ola Balogun, he went to Brazil and we heard the story of how Nigerian filmmakers were working with filmmakers in Brazil. So, it was really huge. Then, the Structural Adjustment Program happened and so the theaters died. Film became very expensive. The filmmakers stopped making films because they didn't want to make films with video. Then another boom with the success of Living in Bondage right then with the Figurine and of course, later on the success of many others. There's Figurine, there's Confusion Na Wa. Then, commercially, the success of Wedding Party drove the industry towards making comedy. See the economics as well now. Now, there are projects like Oloture, like Blood Sisters; and of course a couple of other projects that have been made now that are universal. The economics have actually changed because now you know that the big studios are here. And the big studios want universal stories because they want to drop it in 35 languages around the world so that it's going to be everywhere. Right now, this particular economy I'm looking at is going to last a very long time.
---
Grey: Really?
---
Kenneth Gyang: Yeah. Because if you don't make the right sort of film as a Nigerian studio, it doesn't mean that Netflix or Amazon will not make Nigerian stories. It just means that they are going to bring in foreign people to come and make Nigerian stories for the consumption of black people around the world. Right. So now you as a filmmaker, you have to know that you have to always work with the best possible people. You have to make the best possible films. And so that one I don't think, except if the OTT will crash. And I don't think that for the next maybe 20 to 30 years, you're going to sayu the OTT will crash. I mean, we've seen, with Beast of No Nation which had Idris Elba. I think they sold it to Netflix for $12 million. So those stories will always be told.
---
Grey: How much credit should we give to streaming platforms in this whole evolution that is happening?
---
Kenneth Gyang: I think I'll give them really huge credit because I don't live in Lagos. Right. For a very long time I wasn't in Lagos. But you will always hear stories of the industry and talks about how there's actually an invisible cabal. So, you'll always hear stories that this cabal controls the distribution system; distribution and exhibition. And if you control distribution and exhibition, it means that it is only what you will tell people to do that they will do. Because based on your own data, this is what is successful. But the thing with the streaming platforms is that it has given filmmakers a lot of opportunity to make different kinds of film because around the world, they are all sort of audience for them. So if you make horror films, there's definitely going to be a particular community that wants that, or if it is action or comedy.
---
Grey: At this point, everyone in the industry has come to agree that Kenneth Gyang is the man to call when you have gritty stories to tell. Stories that oftentimes reflect the reality of the Nigerian people. But you also have critics who say a number of things. Things like, yes, you can tell the stories. Yes, we can relate to them, but how about you tone down the nudity. I think I saw those thought patterns pop up after the release of Oloture. It also popped up after the release of Blood Sisters as well. One, does these thoughts bother you and two; how important really are those kind of scenes to the stories that you're telling?
---
Kenneth Gyang: Can I ask you a question? So if you're making a film, right, and you have an important thing that would be great for character development, and it happens in a bathroom and it's in a community bathroom, how would you shoot that thing? Would you shoot them with their clothes on?
---
Grey: I would choose to shoot them without their clothes on.
---
Kenneth Gyang: Look. It's the reality because films are a reflection of society, right. Why would you shy away from that? And think about even the characters, Olayinka and Femi, right. The grip that Olayinka has on Femi is sex, yeah. Because you can actually see that that is actually what she's using against him all the time. Now, how else would you explain Olayinka's grip on Femi. If you go back to Oloture; the most shocking thing, because when you hear what these girls go through, right; the shocking thing is when you go to the shrine and you hear all these incredible stories about what happens, those stories that are really heartbreaking. So when you're making a film, how then would you say that you don't get to show that? Because maybe a section of the crowd will feel that is, like, extreme. But when people see those things in international projects, they don't have a problem with it. Right. We're in a universal community right now. The same way you will talk to me on screen is the same way another person in Japan will talk to me on screen as well. Right. So now I can't say that because now I'm in Africa. Maybe I have to shed away that part. When you bath, you actually bath naked. When you're having sex, you have sex naked. When it's out there in Europe and for America, it's the same thing. So I feel that sometimes people just want to be excessively critical without really looking at the reality of what is going on. And you do these things not because you want to do but to drive home your plot or to drive home your character development.
---
Grey: So, it doesn't bother you?
---
Kenneth Gyang: No, but why would it bother me like I'm just a storyteller, right, and I will tell the story the way it should be told. I hate the concept of caricature, and caricature is maybe when you want to show an explosion and then maybe you just do something, like the way we used to do it back in the day, right? You just do something and they give people, oh yeah, this is an explosion. No, if I want to do it, I just want to do it well. So if you're going to go like you're going to walk down the bridge like I'm a naked because it's going to drive home your character, then of course that's how you're just going to go. So I don't really think about these things in terms of deciding what I want to do, but if the story requires it, then I'm just going to do it because that's what it is. After all of that, if you read books and they talk about sex and all of that, do you feel, okay, this is not us, or do you feel comfortable because now you're reading it? See, we're having a conversation, yeah. You call it The Film Conversation. So that's what we're doing.
---
Grey: Thank you very much, really, for your time, Kenneth. After all of these; what's next for you? I know you have a personal project that you're working on.
---
Kenneth Gyang: Yeah, for me, the most important ones are the ones that we're developing because there are a lot of ideas that we want to explore, and it's really exciting to explore those ideas. So I guess in a couple of weeks, we'll get into production for the first one. But then that will be the beginning of a series of other productions that will be coming in from Cinema Kpatakpata.
---
Grey: So we should be expecting a whole lot from you.
---
Kenneth Gyang: You'll be entertained.
---
Grey: And we're here for all of that. Thank you very much. Thank you very much. And again, I enjoy doing this so much. So we'll see you when we see you.
---
Kenneth Gyang: Thank you. Bye.