Before Our President's Money, Geshin Salvador is best known for his work on Tanwa Savage. More recently, he worked on Ticket to Life. Tanwa Savage revolves around the marriage scandal of a celebrity. After failing to have a child with his wife, he decided to sow his wild oats with other women. The core of the film was when he had himself and three pregnant women from three different tribes put together under one roof. It was a lockdown kind of situation.
If that premise was conjured fleetingly in Tanwa Savage, in Our President's Money, Geshin Salvador who wrote and directed both films pitched the new film on it. It was fantasying to see in Tanwa Savage back in 2021, particularly as we grapple with the new world order necessitated by the novel Coronavirus. However, not much of that novelty is felt in Our President's Money.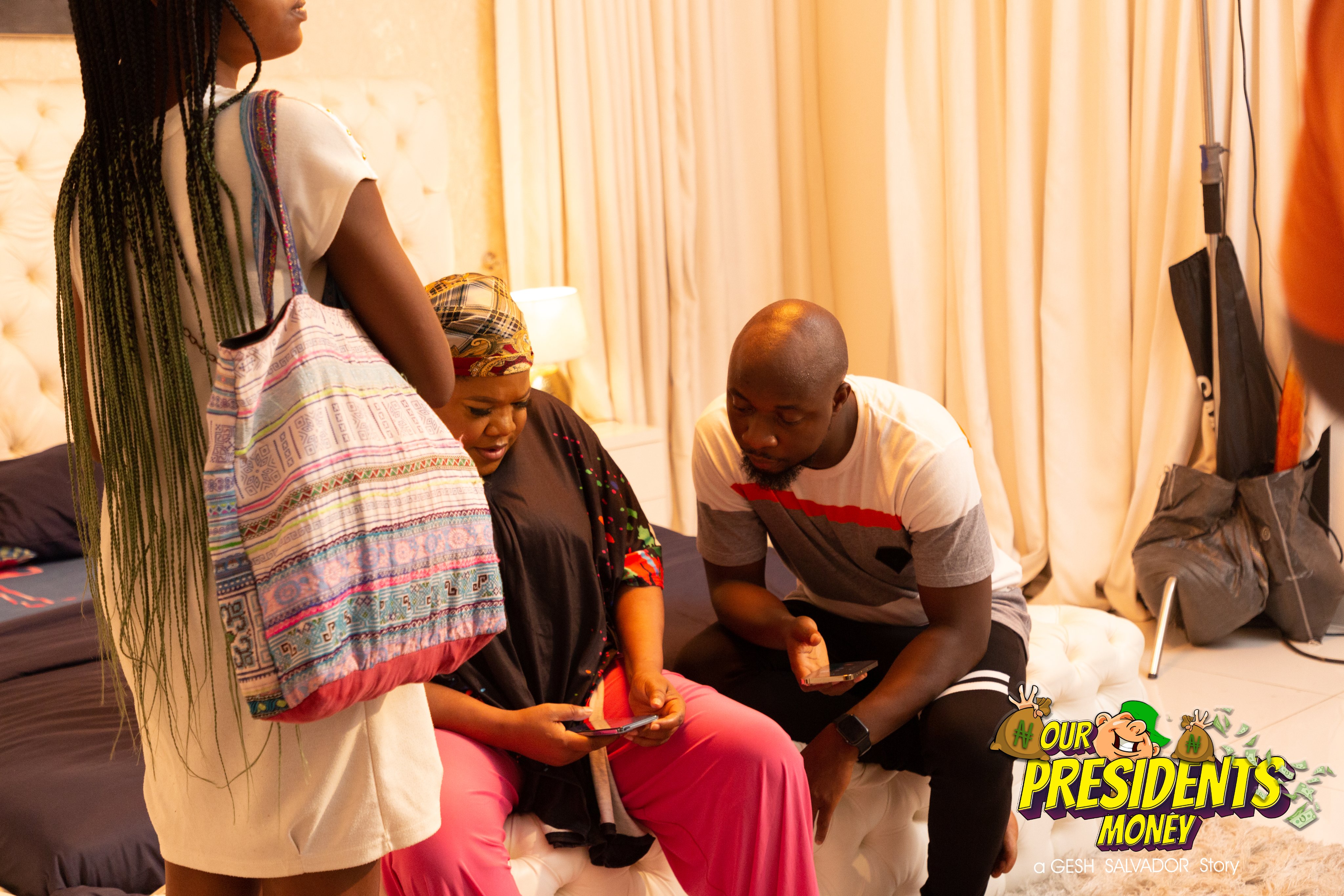 The makers say that in the film, a series of unconnected incidents pits six different people against each other over a large amount of money in a house where no one can leave for seven days. This is set against the backdrop of a nationwide lockdown to contain the spread of COVID.
Honestly, it's intriguing to see patches of our recent existential realities, albeit excruciatingly discomforting while it was raging, being depicted on celluloid. It suggests the consciousness of Nollywood filmmakers' to the varying leitmotifs of the world we live in, the ability to draw inspirations therefrom and the capacity to prop up such themes as the backbone of delightful flicks.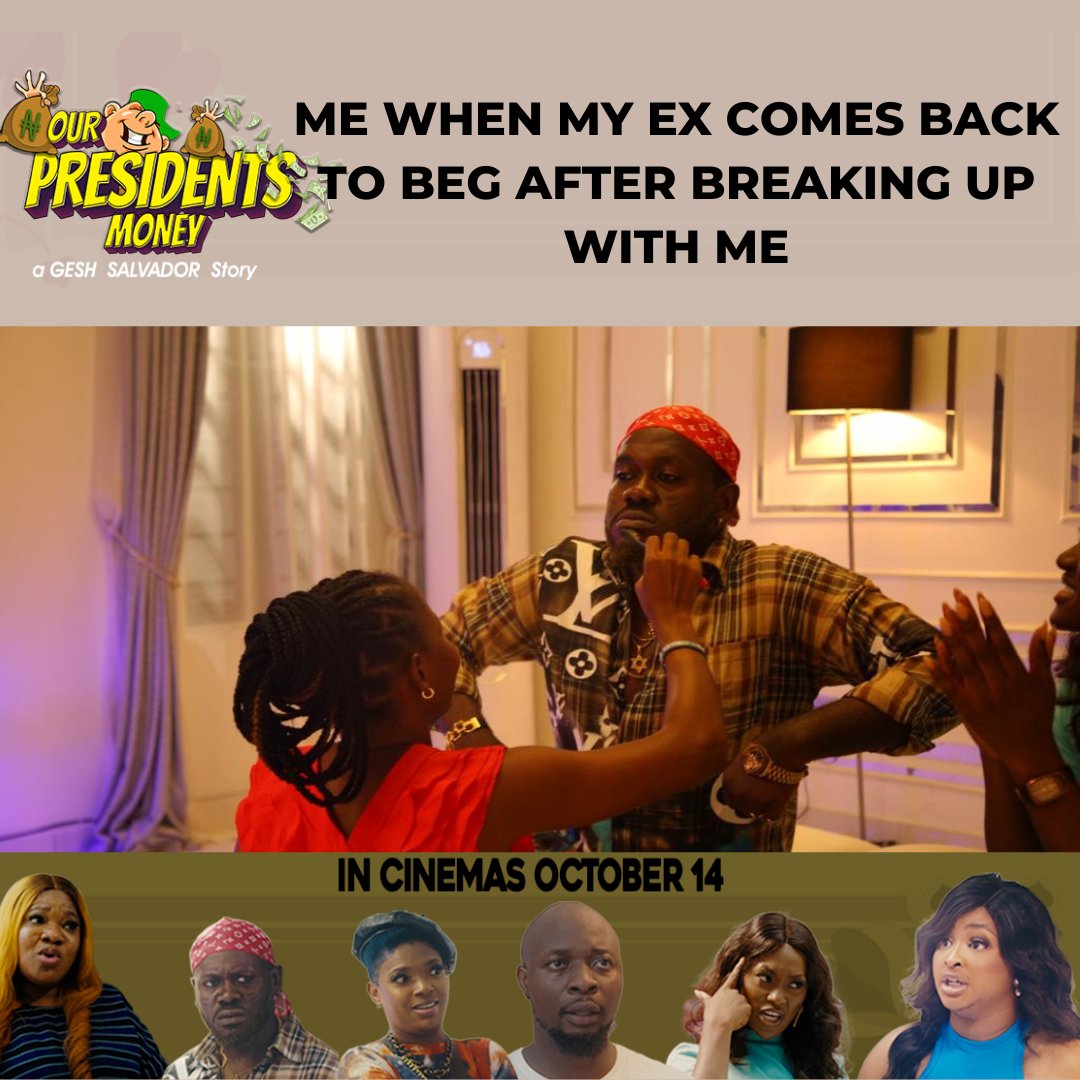 However, despite the potentials of this premise and the famed competence of its lead cast, what Our President's Money offers you is an unadulterated mimicry of its thematic backdrop, a jumbled manifestation of its plot, a gimmicky roll out of its screenplay and a judicious waste of acting talents. At the end of the 96 minutes film, all I could mumble was 'God Abeg'. Not that there is any heightened expectation of the film. Not even with its flashy and burlesque marketing campaign. While that was well orchestrated given that it was handled by Olorunleke Mautin; a digital marketing strategist of repute; it gets mind-boggling to know that Mautin doubles a co-producer for the film. So, you just want to wish that the spoofy trails are left off a lot more from the film. Nah! In this case, what you see is what you get.
The film opens to splinters of prologue scenes that do not add much, if anything to the film. You had its lead casts, Toyin Abraham playing Amope/Victoria, the graceful Annie Idibia as Emem, Deyemi Okanlawon as Adio, Etiosa Idemudia as Blessing; Linda Osifo as Awuli and Micheal 'MC Lively' Sani as Dauda/David, all paired in twos commenting on what they would use it for, if they are to lay their hands on the President's money. Whatever tickles this gives you, diffuses away as the film set its track.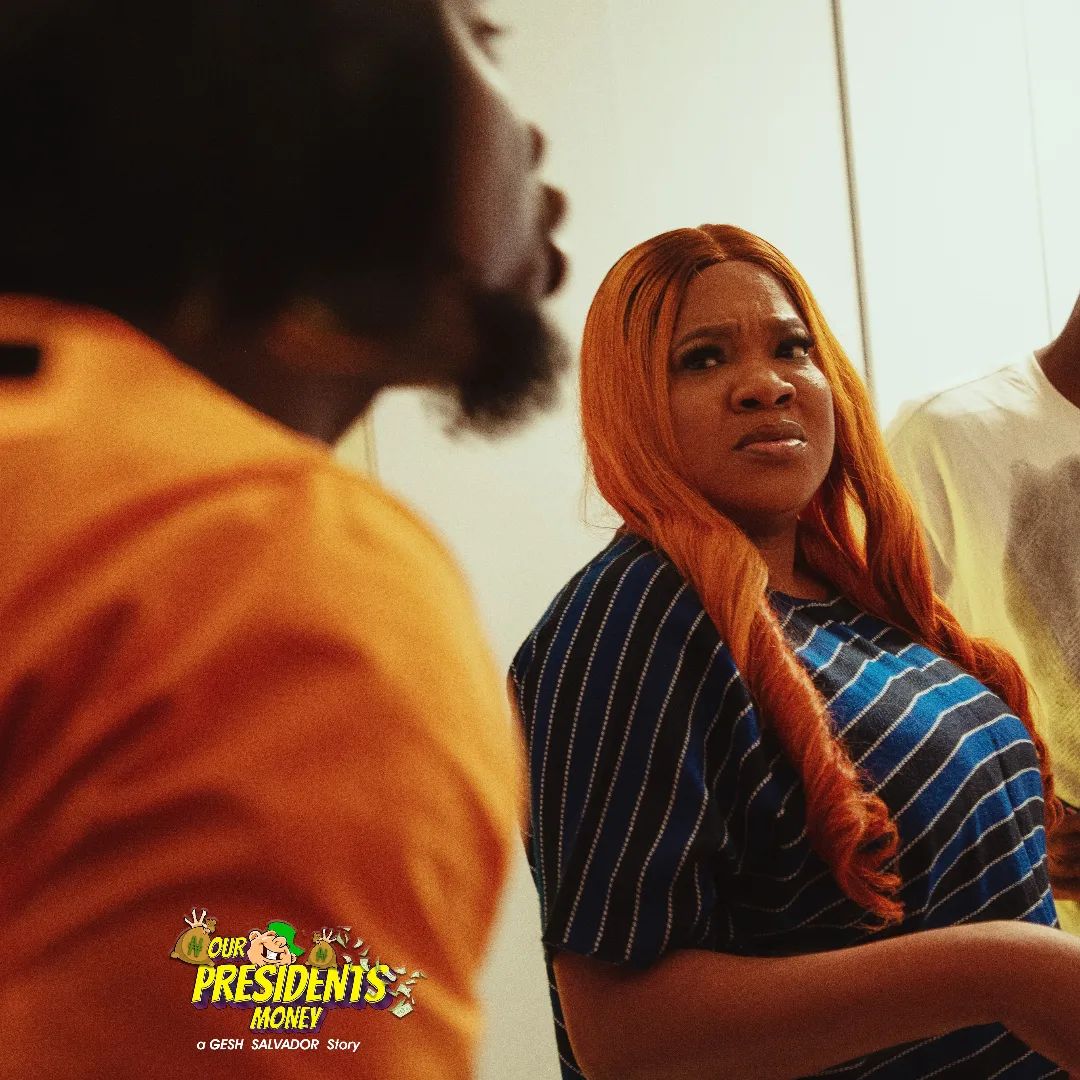 We get Dauda, a chronic playboy, who seems to have given up any trails of his self-respect; just so he can live on the Island with his Sugar Mummy. But the Sugar Mummy here, Amope, essayed by Toyin Abraham, we would realize is a 'runs girl'. She would go one of her trips just before a seven-day lockdown is to be announced; much to the delight of Dauda. He in turns, seizes the vacuum to invite his many other girlfriends to a 'lockdaetion', – his words.
The next tens of minutes of screen time is hence devoted to his attempt to get any of them to come over. And this is done with as much gusto as with acute tomfoolery by MC Lively. While the dialogues offer nothing new – it could literally have been written for any of his numerous skits – MC Lively carries on the act with akin gait, so much as to compel you to reconcile with the manifestation of this man, away from the randomness of a skit maker to the fold of bonafide actors. In Our President's Money, you see the skit maker shining through mostly, but in a few scenes including a shot of realization that happened between his character and that of Etinosa Idemudia, as to the actual profession of his beau; the distinguishing actor pops. Hopefully, he breaks away from the monotony of offers that comes to people of his ilk.
Now, somehow, 4 ladies; all of whom Dauda/David has slept with, converged in Amope's house. The build-up to their convergence was filled with highly labored theatrics; most of it, uninspiring and forgettable at best. They all had something to be sorry for except Adio, a tout essayed by the dependable Deyemi Okanlawon who seems to have sampled the braggadocio of his character in Omo Ghetto: The Saga and blended that with a patched vocabulary of the Zazzu crooner, Portable. That's what it seems, really!
Meanwhile, at this point, whatever stakes the film has managed to hold on you, mostly with the brilliance of its stellar cast and its elegant visuals effected by DOP Sanjo Adegoke, everything comes convoluting. The build-up to the climax is laced with much rushed staccato; the tension barely felt. And the climax in itself is hardly discernible. The gimmicky flash shots and the repeatedly panned flashbacks weren't enough to conceal in the film, a haphazard plot with no perceptible substance; and in Writer, Director Gesh Salvador, a wobbled form of storytelling.
Yes, you have a Deyemi Okanlawon, a Toyin Abraham – albeit quite laid back here, Annie Idibia marking a graceful attendance on the big screen etc. There's however so little that they can do with an ethereal script. Not even Vanessa Alli's presence made much difference.
In any case, I hope that Salvador now moves away from the concepts of lockdown or lock-ups and attempt to present more nuanced films. This, right here is a miss! Our President's Monday is showing in a cinema near you.
Written By: Geshin Salvador
Directed By: Geshin Salvador
Director of Photography: Sanjo Adegoke
Lead Casts: Toyin Abraham, Deyemi Okanlawon, Annie Idibia, Linda Osifo, Michael 'MC Lively' Sani, Etinosa Idemudia, Vanessa Ali