The synopsis to the widely publicized Netflix series, Shanty Town, reads that a group of courtesans attempts to escape the grasp of a notorious kingpin – but political corruption and blood ties make freedom a near-impossible goal. Wow!
You would think that this brief has the potential to birth a thrilling and action-packed film that will keep you at the edge of your seat, but you would be classically wrong. The 6-episodes show which runs for a cumulative stretch of 4 hours, fails at numerous points in rising to the lofty brief that sells it. Its goofs, misfires and the disappointment that comes with that is a hall of Famer.
Set in a fictional town in Lagos called Shanty Town, which as recently as 2004 was still known as Shangisha, the show explores the lives of sex workers under the watch of a ruthless pimp and drug kingpin called Scar. It opens by offering a back story, with a family which had twin girls, escaping from raiders. Two of the family members presumably died, and the remaining two – the mother and a twin girl – were said to be rescued by Scar. Now, the girl is taken into a drug cartel that also doubles as a prostitution racket. From here, the story only gets darker.
Make no mistake, that darkness is mostly reflected in the lens of the film's Director of Photography, Jonathan Kovel who had also worked on Kunle Afolayan's Swallow. Kovel delivers a film where the cinematography uses colors and backdrops to reflect the peculiarity of the different worlds that each of the characters lives in or the one they aspire to. Hence, you see a cloudy patch in a scene where a character expresses regret and anguish and a consistently dim and dark underlay for the three leading villainous characters in the film; Scar played by veteran screen gangster, Chidi Mokeme, Chief DaCosta Oluyomi Fernandez by the dependable RMD and Dame Dabota essayed by Shaffy Bello.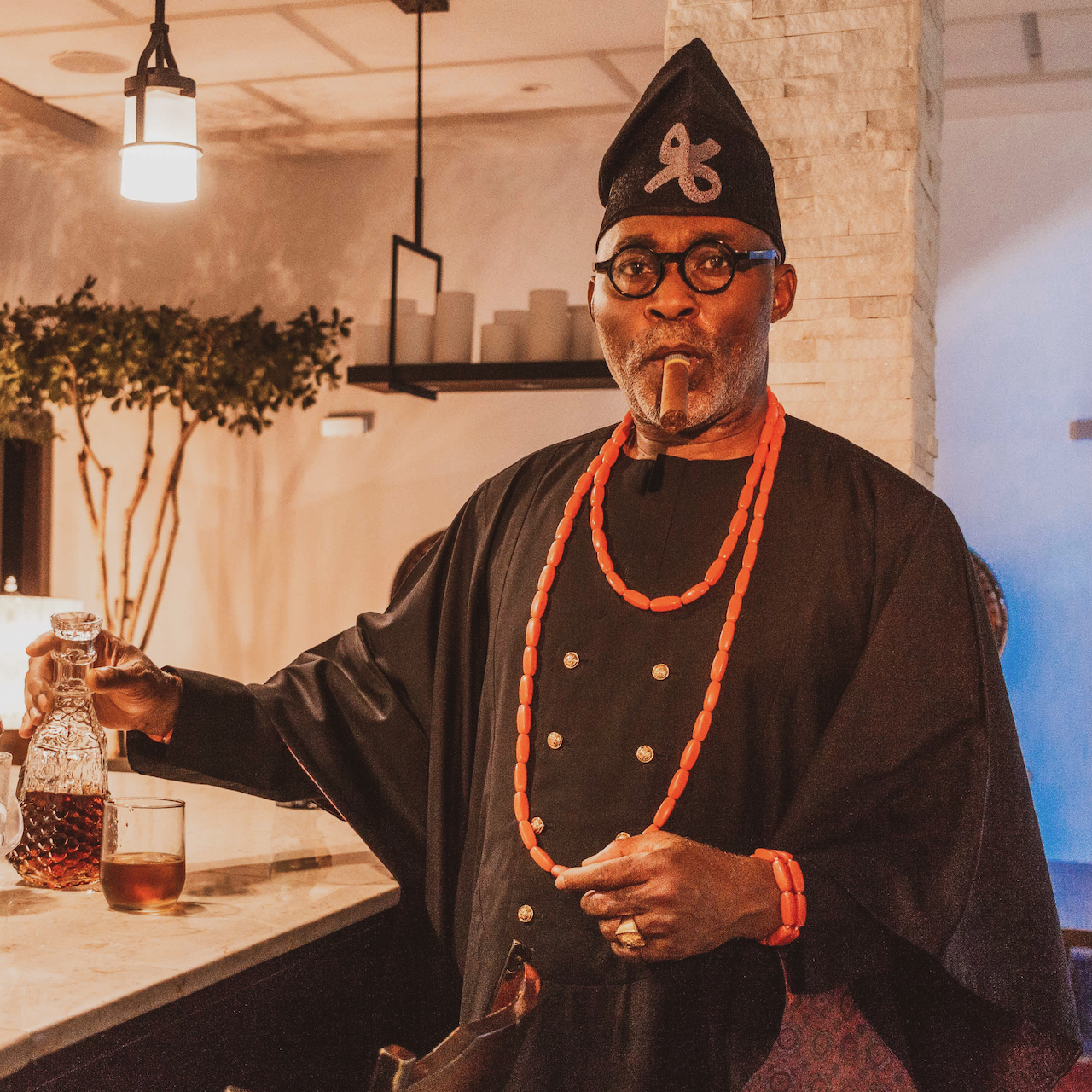 You'll however behold a contrast when one of the lead characters,
Chief Fernandez
, in his house speaks of his lofty dream of winning the gubernatorial election in Lagos state. Kovel deploys the alluring embellishment of his house as ostentatious backdrops yet the dint of darkness never completely goes away. In character, this reiterates Chief Fernandez's apparent sophistication on the exterior but his unbelievable crudeness within. It also points at his attempt to whitewash his starkly dirty past with the charm and modishness that comes with being a State Governor as well as the obstinacy of his past in keeping him locked within the pool of murky waters. This is chaotic.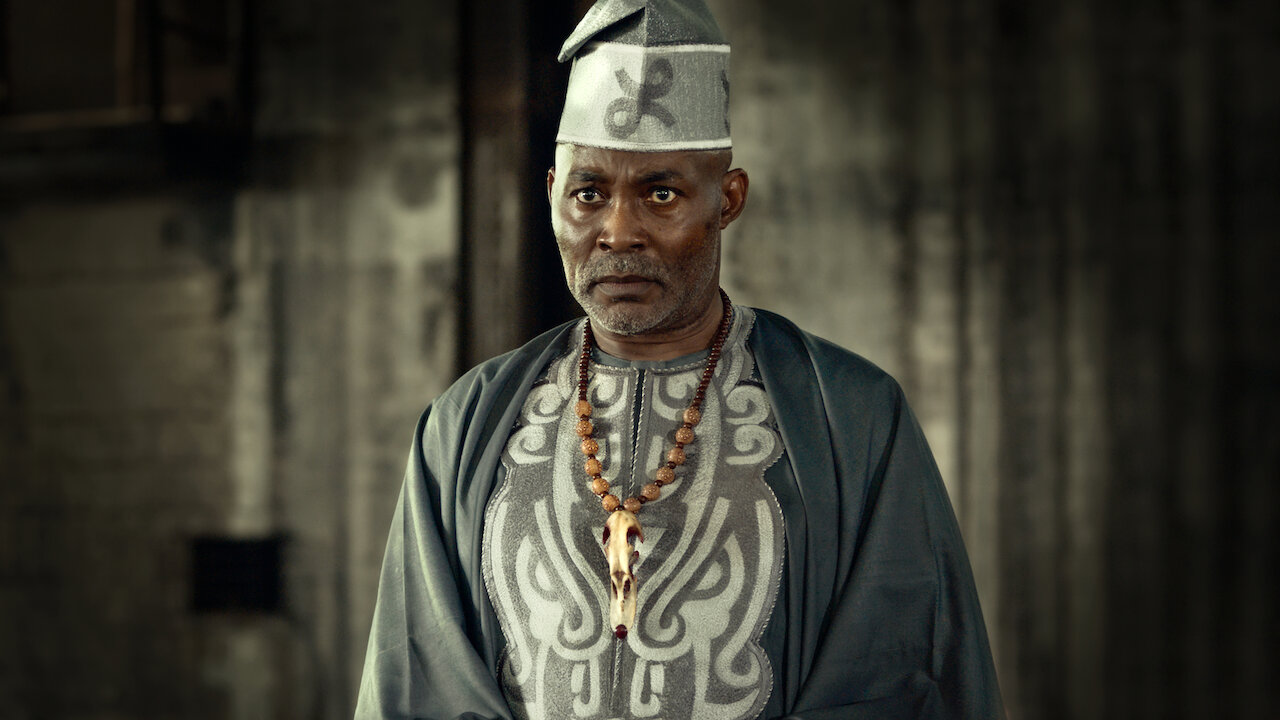 However, you won't be surprised because the film itself thrusts you into chaos right from its opening scene. Goons, guns, bombs, shouts, shoots, boom; that's all you hear; as residents of a riverside community are forced to evacuate their land. It seems like Director Dimeji Ajibola, who also directed the Jim Iyke-starrer,
Passport
, wanted to make a terrific first impression with the opening scene. If that's it, yeah, he won that round! I mean, not a lot of scenes, even in the film itself, will come off as gripping as that opening scene – mind you,
Shanty Town
has ample violence, gore, sex and yeah,
nudity
, to go round.
Nonetheless, a scene of militant-styled and gun-wielding buffs sporadically and hysterically shooting at non-resistant civilians who are scampering for their safety with several bombs going off the next seconds, I'd rather say is a tough one to match. It makes you hold your breath for a moment. Now, that's fair, because for the next four hours, sparsely will the film be able to draw out such reaction from you anymore. Grumbles are possible, though.
This is essentially because at the core of the story the film tells, is a thinly layered plot that evokes true excitement. However, this excitement barely carries you halfway into the second episode of Shanty Town. To sustain it, both the plot and the arcs of its characters would have to be fleshed out, for context, for buildup of tension and for a truly moving action thriller. Shanty Town fails at all of these. Rather, the series which was produced by Chinenye Nworah with script written by Xavier Ighorodje and Donald Tombia based on a story by Shirleyaan Ede, Xavier Ighorodje and Ayomikun Paseda, relied on its numerous star cast, well choreographed fighting stunts, overstretched scenes, wanton exposure of the human body and perhaps the scintillating Netflix tumdum sound, to sell the feel of a badass film to its audience.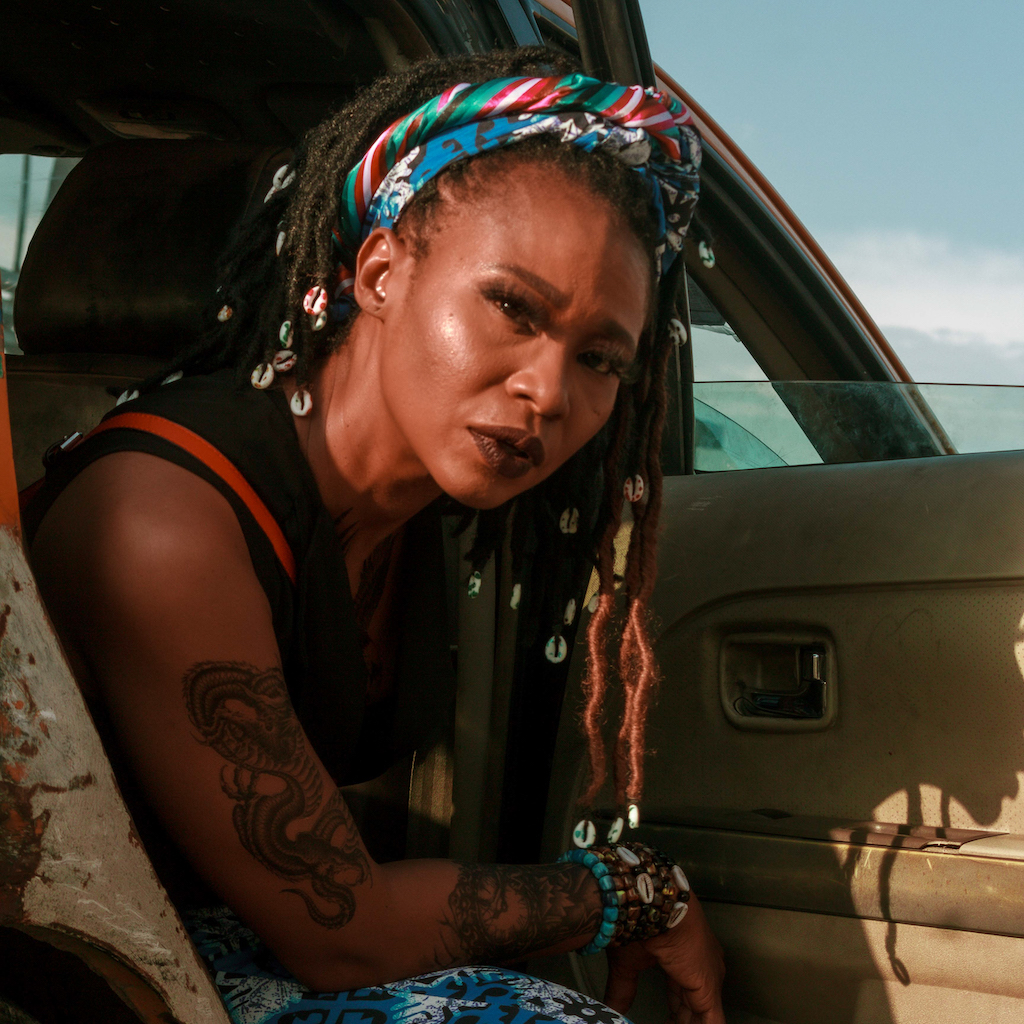 Sorry, x-rated scenes do not cover for a soulless film. Your enigmatically styled-up villains with the gross debauchery they exhibit on screen and their aura of aggressive machismo would have to be matched by a plot with substance at its core and a constantly moving screenplay. In the absence of that; why then stretch a thinly layered plot to a show spanning 6 episodes. In that process, writers Xavier Ighorodje and Donald Tombia, alongside Director, Dimeji Ajibola, only delivered a series that's high on aesthetics but low on substance. This becomes more problematic if there are actually glaring loopholes in the screenplay which could have been explored to tell a more engaging film.
Shanty Town parades the finest of actors playing very intriguing characters but refused to develop almost all of these characters and explore their back story for audience empathy and engagement. When it does for some, the dialogues are tacky and uninspiring; sometimes defying logic. Meanwhile, the film then depends on the clinical finesse of the actors mouthing the dialogues, for impact. Take Shaffy Bello and RMD for example.
RMD is the don here. His chain of shady businesses include sales of human part on the black market, human and drug trafficking and sex racketeering. When you add bestiality and hedonism on a personal scale to the list, the character you have is nothing short of a demon. And RMD here embraces this character to the last letter. But it felt like this character and its sinisterly arcs were developed first and the story that birthed him, hurriedly conceived later. In a conversation with Scar, he was rambling on his genealogy and how his forefathers, hunters and fishermen, founded Eko – Lagos State. Then he meanders into slandering them, "but they forgot who they were. They became politicians. And politicians are fools." Take note, that this character, Chief DaCosta Oluyomi Fernandez, throughout the film only has a side gig of acting out his sadistic hedonism but a lone full time premise of attempting to hide his past so it  causes no blemish on his ambition to become the next Governor of Lagos State. That's pretty political, if you ask anybody. Is that an admittance of his foolishness too? Self-loathingly? I doubt it.
Now, if you think this can't get worse; writer Xavier Ighorodje and Donald Tombia has more for you in a protracted scene involving
Scar
and Shaffy Bello's
Dame Dabota.
She attempts to philosophies her thirst for power while leaning on the street credibility of the eternal Bad Boy; Fela Kuti and his
Kalakuta Queens
. She reminisces on how she would admire them from afar; desiring to dance with them, smoke with them and even '
fuck them
'. I don't know that you get more 'gangsterly' than that. There was a problem according to her though. She doesn't know any of their names yet she covets them so much. So, that formed a philosophical compass for her; inspiring her to keep striving for power such that her identity isn't submerged like that of the Kalakuta Queens she admired. Now, she needs
Scar
to help her achieve this.
But wait a minute; this character, Dame Dabota, a woman, who had one of the most feared Lagos' underworld honcho kidnapped and brought to his knees before her, to plot the fall of her equally menacing arch-rival, spewing Queens' English while at it and with a name that sounds nothing like that of the aboriginals of Lagos State; is the incumbent Governor of Lagos State! Yet, she has a challenge of submerged identity? It's tough to think. In this pretty much exaggerated depiction of Lagos' underbelly, if she rose to that position fairly, think of how exceedingly charismatic, popular and loved she would be, for Lagos to gift that to her. If by crook, imagine the sheer gut to desire that, the sinister demands the underworld would have requested from her in return and the thought of she fulfilling it all while speaking Queens' English. The street credibility would be unmatched. So, these inconsistencies in the back story make it fall flat; too flaccid to humanize the character.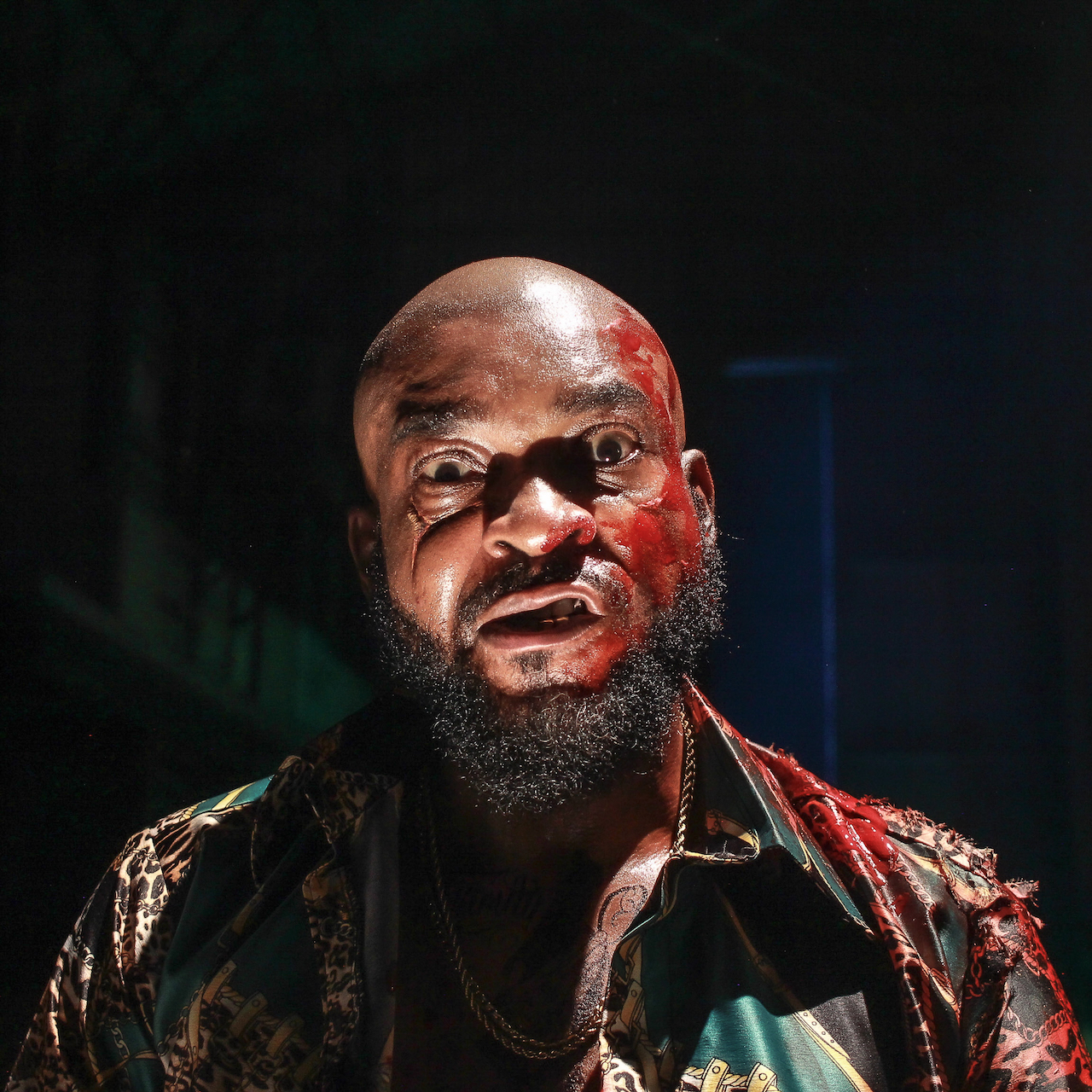 Meanwhile, the filmmakers make no attempt to even extend this gesture to a lot more characters including its leads. In life and in death, it portrays
Scar
as a perpetual villain. Is he rugged? Yes. Is he brash? Oh yes; as a drug kingpin should be. But 18 years ago, when we were first introduced to him; he wasn't this loathingly sadistic and gawky creature we saw on screen for the most part of the film. How? What shaped him into this semi-demon? We see his actions and braggadocio on screen but we don't know what to feel for him neither does the film avail us enough insight to process his actions through the prism of the life choices that has shaped him up until his gruesome death. Ditto for other pivotal characters including Nse Ikpe Etim's
Ene,
Nancy Isime's
Shalewa,
Shola Shobowale's
Mummy T
and more.
The frustration that this causes while sitting through the 4-hour long show heightens when you then see a judicious waste of screen time on overstretched scenes, lame dialogues, depiction of more laughable than gritty debauchery and Ini Edo's stunt trainers having several minutes to display their mastery of choreographed fight sequence in the climax. The plethora of loose ends in the script and rough edges in the screenplay screams at you and you heave a sigh of disappointment in return. If it ever gets made, a second season might want to offer closure by addressing these first.
Shanty Town
could be more. It does have the potential to be more. Its essence is clouded by the perennial goofs of its makers. When it barely attempts to fly, its flaccid screenplay holds it back ensuring that what we get is at best a bland exaggeration of the underbelly of Lagos and at worst, a cinematic depiction of a poorly developed idea of powerplay, made off jumbled samplings of similar materials before itself.
But for its rich use of an eclectic mix of languages, its enthralling set designs, stunning cinematography and the class act of its ensemble star cast – save for Peter Okoye – this is perhaps the blandest version of an action thriller Nollywood 2.0 has produced, so far. The gory bloodshed and roving nudity doesn't count. A one-time watch will do. Shanty Town is streaming now on Netflix.
Directed By: Dimeji Ajibola
Written By: Xavier Ighorodje and Donald Tombia
Story: Shirleyaan Ede, Xavier Ighorodje and Ayomikun Paseda
Director of Photography: Jonathan Kovel