Comedy dramas like Passport are not new to Nollywood. In fact, many think that the industry has over-served it. While the reason for that isn't hidden truth anymore. You only might want to wish that they are served appropriately and do not leave a sour taste every time. Once bitten, twice shy, they say.
I dare argue that an industry of comedy flicks isn't the problem. The inability of filmmakers to rise beyond uninventive storytelling, easy tropes, and sloppy detours is the bigger concern.
In Passport, Director Dimeji Ajibola, known for his work on Ratnik, has all the recipe to make yet just another Nollywood comedy drama. In fact, I approach the film with little expectations, for the regular elements were constant given the trailer of the film. You have the depiction of two worlds that are wild apart; a rowdy protagonist, the privileged IJGB, an admix of both, starry punch lines, and comedy. As a cinephile, I've been down this dinner table quite a number of times.
However, Director
Dimeji Ajibola
with Abosi Ogba who has writing credits delivered a film that feels familiar yet refreshing. The plot revolves around a rich brat, Oscar, who must work with a super-confident Ghetto tomboy, Kopiko, to recover his stolen passport and travel back to his base in London, to see his ailing mother and perhaps turn the tide for his personal finances.
Now, imagine that the car Oscar was traveling in, to the airport somehow manages to ply the ghetto and broke down therein. Imagine that some cutpurse youngsters dispossessed him of his bag which has his passport in it. Imagine that he then has to seek the help of Kopiko to get his passport and that they do not agree for the most part. Now, think of Oscar being played by Jim Iyke and Kopiko being essayed by Mercy Johnson.
At every twist and bend,
Passport
almost gives you déjà vu. You can remember Mercy Johnson playing a character like Kopiko before; you can imagine Jim Iyke being the brash, privileged hunk – only that he's not an absolute villain here. In fact, Zubby Micheal playing Terminator only manages to escape monotony. For context, his last theatrical release is '
Tiger's Tail
'. He could easily have shuffled between both sets without batting an eyelid. In fact, Zubby practically borrows slangs used by his character in 'Tiger's Tail' in here.
It made me wonder which came first in the production of Passport; the story or the lead cast. Nonetheless, Dimeji Ajibola turned this cognizance of both story and cast into a blessing rather than a curse for the film.
The writers gave us Jim Iyke but withheld his usual advantage of physicality. Yes, he remains privileged but his financial capability is also restrained. That resulted in a persona with a detour from the usual.
For, Mercy Johnson, her portrayal of a battered yet confident queen of the ghetto remains consistent but her emotional chord is more pronounced. It's layered beneath her braggadocio as expected but pops when tickled; especially by Oscar's brash tongue-lash and push of class divide.
Oscar is as classist as you can imagine. He schooled in the US and lives in the UK. Whenever you want to forget that, his accent reminds you. He calls police; cops. However, beyond the refined outlook, he's as dealt with by life as Kopiko. They are both floating on the same emotional wavelength actually. He seeks to be in control of his family business and she wants to become the 'Chairlady' of their Brown Development Union. In any case, whatever brought both of them together was chiefly because of their individual mothers. These smart layers of emotions gave a soul to the film.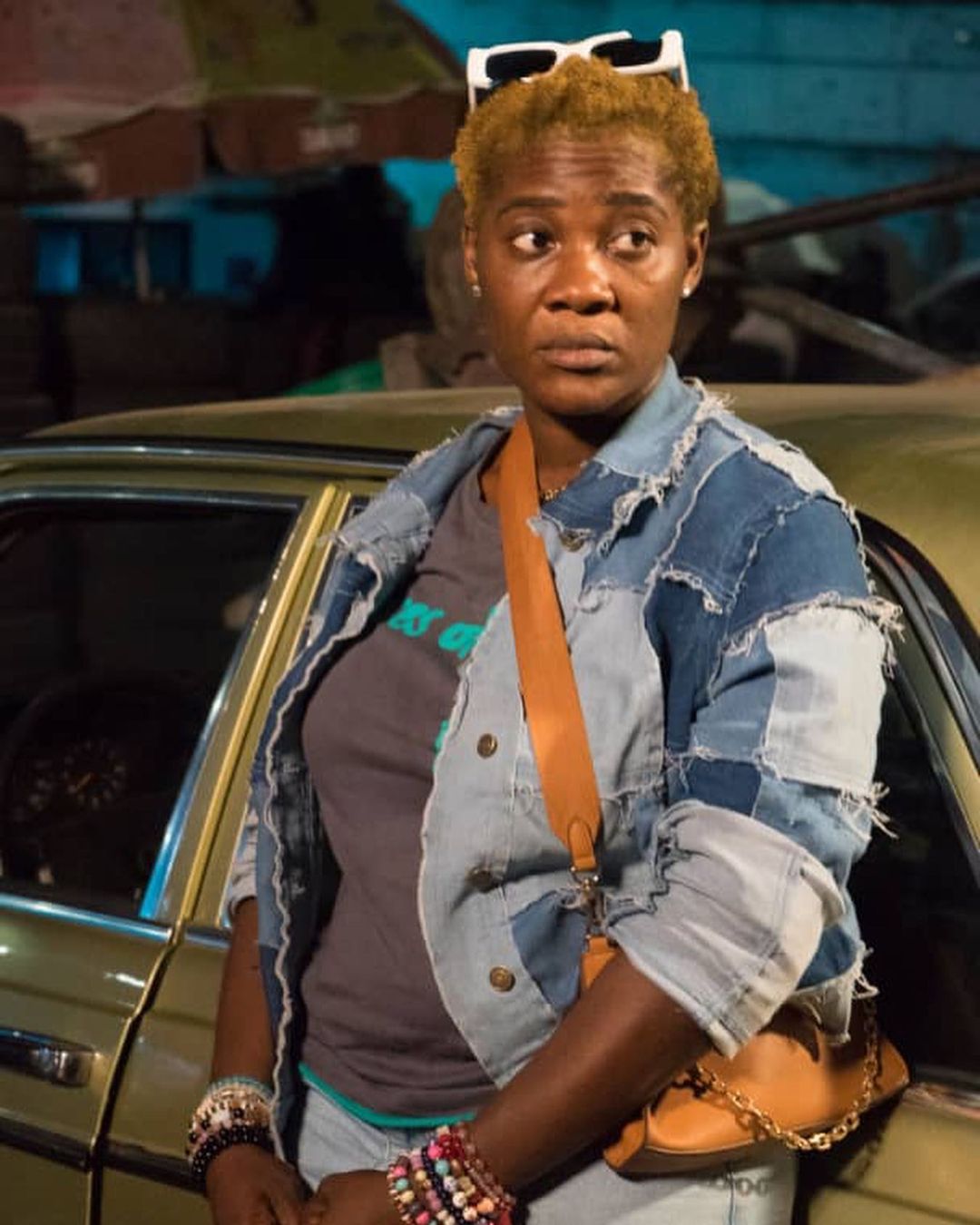 Kopiko is consistently angry. In one scene, Oscar asked; "why are you always angry?" She replied in what loosely translated to, "it's because life has dealt me." As easy as this dialogue seems, Mercy Johnson captures the frustration and exasperation of Kopiko. You realize this is a character that wants more out of life but is inhibited by realities of her won existence.
Meanwhile, this runs in the family. Her younger sister, Mighty shares in it. Played by Lina Idoko, she's unbelievable. If Mercy's depiction was familiar; Lina's spectacular. The last time I saw her was in 'King of Boys: Return of the King' where she played a reporter. Even within split seconds, she stood out. So, Passport got its casting right. They all appear like old wines – playing familiar roles, in old bottles – a familiar storyline, yet they shine through at every turn.
Well,
Lateef Adedimeji
seems wasted in his role as Abubakar, almost forgettable. This signals that
Passport
isn't perfect. Yes, it managed to elevate a simplistic story with bites of emotions. Director Dimeji Ajibola's smart directing shines but a few continuity issues damp this.
The film opens to an insignia of Eko Hotel where Oscar took off for the airport. It's awkward that they land in an almost deserted community like the fictional Brown Street while heading for the international airport. When Tobe played by Emeka Nwagbaraocha shows up at Terminator's den with Oscar's passport; you wonder how he knew the latter's whereabouts. Meanwhile, though the most part of the film happened within a day; the climax wraps up over a couple more nights. However, a character, Prof. remained clothed in the same attire and dangling chain all through.
Passport is enjoyable. The helming of the film is smart. The writing pulls you in with the pinch of emotions to the character arc of its protagonist. And Mercy Johnson and Jim Iyke deliver a class act in familiar yet refreshing roles. Meanwhile, you also have to give props to cinematographer Oladapo Abiola for capturing the essence of each of the characters and their individual baggage. While it reflects on their faces; he brings it to live on the big screen.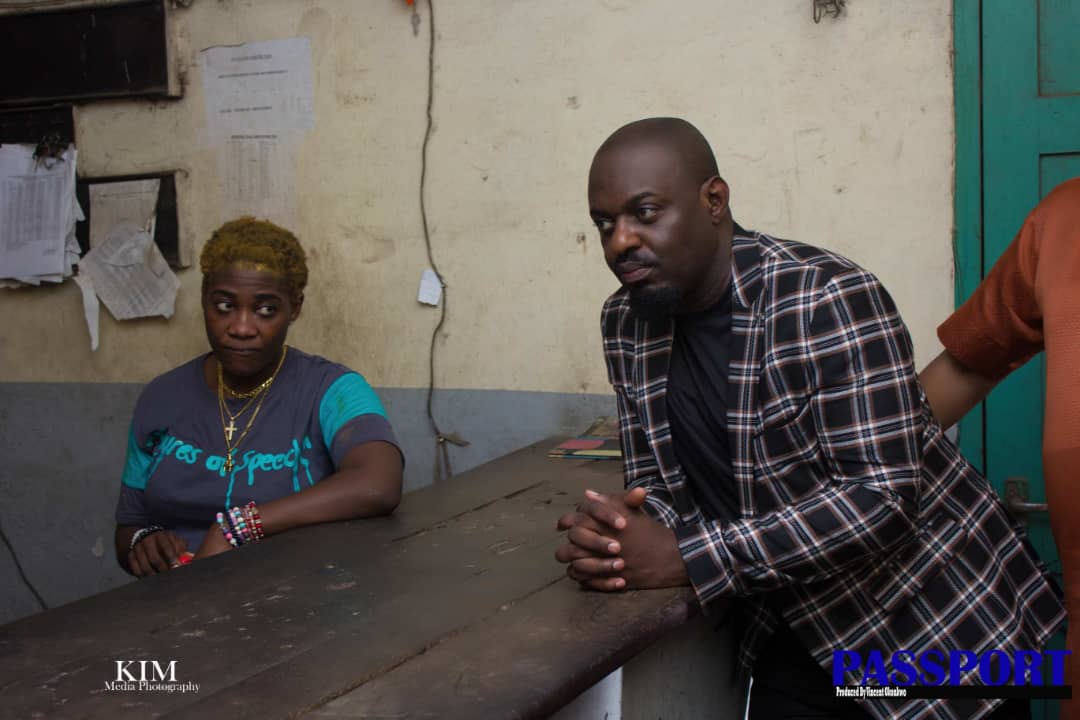 The film could have done away with a few protracted scenes between its lead cast. They make the comedic exchange laborious; almost pushing the film into the pitfall of slapstick. But just right before it bores you, another twist edges you on. Don't watch the film looking for an entirely profound story but you can be sure that it rises beyond the regular. Mercy Johnson will make you laugh. You'll emphatize with J
im Iyke
. Again, watch out for Lina Idoko. She's fantastic in this.
Meanwhile, you'll have to decipher the social messaging of the film about class divide yourself. It's cryptic; will almost skip you. Passport is showing in a cinema near you.
Written By: Abosi Ogba
Directed By: Dimeji Ajibola
Cinematography: Oladapo Abiola, Kehinde Soyebo
Lead Cast: Jim Iyke, Mercy Johnson, Zubby Micheal, Jide Kosoko, Lina Idoko