As I was watching
Lockdown,
it dawned on me that when fiction and reality dovetail – and occasionally they do – the rift between them closes up. Nigerians will continuously see veteran actor,
Kanayo O. Kanayo
as a serial ritualist even if a pastoral collar hangs on his neck; Chiwetel Agu, the devil's incarnate; Mr. Ibu will always remain a comic both on-screen and off-screen;
the late Dejo Tunfulu
's close affinity with stupidity will remain affixed to him. Recently, Funke Akindele's political ambition gave prominence to the proximity between fiction and reality. In
Your Excellency
— fiction, she became the First Lady of Nigeria, and in 2022, her interest in politics piqued to the point of
contesting to become the Deputy Governor of Lagos State
— reality. What is fiction? What is reality?
Patrick Sawyer
, a Liberian had arrived at the Murtala Mohammad International Airport, Lagos before he collapsed and was taken 'to the nearest hospital' ( intoning Omar Samir) for treatment. August 19, 2014,
Dr. Ameyo Stella Adadevoh
and some hospital staff; Amos Abaniwo, a doctor; Justina Ejelonu, a nurse; Evelyn Uko, a nurse aide answered death's clarion call upon getting infected with Ebola Virus while treating Patrick Sawyer. Before this review detours into a news report, let me stop and leave with this plea, especially if you're unfamiliar with the scenario above, google 'Ameyo Stella'. In doing that, her heroic act of curtailing the spread of the Ebola Virus in Nigeria doesn't tour the pathway of oblivion.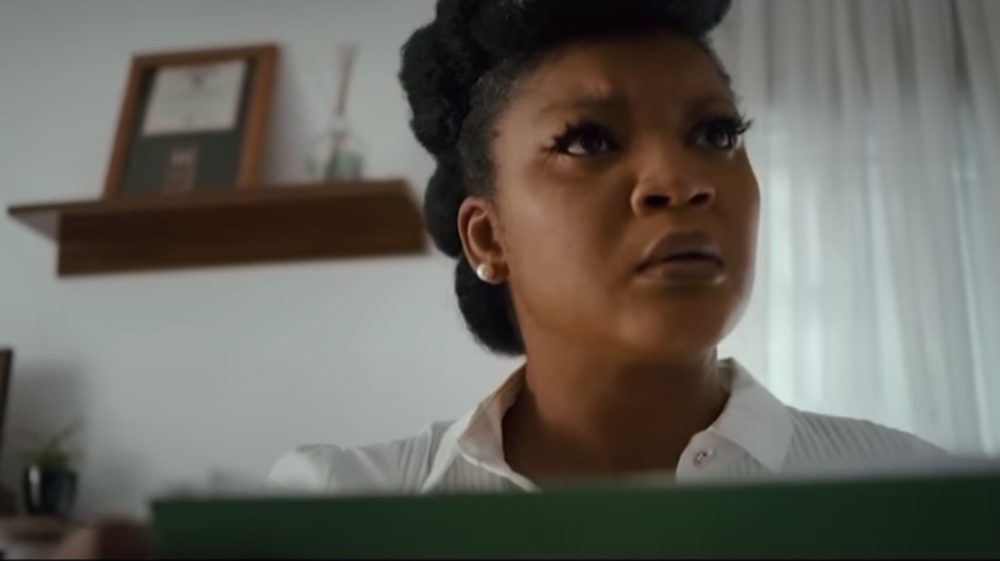 Lockdown did subtly acknowledge the historical event without appearing to do so. Aside from the location that reiterates the 2014 incident (the hospital, the airport) occasionally giving the movie a documentary-esque feel, the movie crew list various declarations — an affirmation and a disclaimer. 'While this motion picture is inspired by TRUE EVENTS… incidents portrayed and the names depicted in this motion picture are FICTITIOUS.'
The film doesn't want to be a documentary. However, keeping in mind the tragic event at stake which is about to unfold itself on the big screen – if you watch this in the cinemas during its theatrical runs, or on the small screen as it is
streaming on Netflix now
; it's a tasking job to do. After distancing itself from the true event that inspired the movie, the scripts were enriched with a long list of comic scenes and characters. Sunny's words and actions reduce the tempo of distress in the hospital; Dr. John's promise to stop ogling ladies save for his wife if God saves him — his prayer pushes to anti-climax the climax of emotion already achieved by the sequential arrangement of shot edited by Tester Bassey Kelvin.
Each of the lockdown patients are in proximity to a 'deadly disease', and their demeanor betrays no fright for it.  Except for the fright of losing 10 million, a job interview, a wedding, and one's wife's last breath, their act eased into providing comic relief to a film with few heightened emotions. Some scenes, just as bait, did accomplish the feat of pulling off laughter from me. But it did diminish the urgency of the emotion of being
Lockdown.
A question then arises. Are there no Nollywood productions, filmmakers, and actors that aren't
a repository of comedy
?
A series of events led 5 people to the Calvary hospital. The movie began with multiple scenes being enacted in close-up shots. Three men (Sunny, Kunle, and Tony) were sleeping in body posture or location that gives a subtle clue of their traits: Sunny(Josh Alfred Josh2Funny), while his surroundings erupt with movement, his body lays still — a jobless man; Tony Amokachi (Deyemi Okanlawon) exhausted from a sexual escapade with Jade( Christiana Martin) while his wife labor — a cheating husband; Kunle (Ben Touitoui) a laptop on his bed, sleeps with no enthusiasm for his wedding — a tech-savvy who cares a lot. Angela Okoroji (
Ini Dima Okojie
) as the case with many job seekers in Lagos is running late for an interview; the gridlock spare no thought for her frustration. Mr. Oche's face suffused with a demeanour that betrays his emotional state came to seek his pay check; his wife needs medication for her lung cancer.
In hindsight, what led each patient to the hospital would cause a yelp. Sunny needed to treat his injured hand. Angela needs a medical report for an interview. Kunle and Sam on their way to Kunle's wedding rushed a kid to the hospital. Mathew came to deliver a package — five people 'at the wrong place at the wrong time'.
The Nigerian healthcare system is ill-prepared to treat minor malaria not to talk of a highly prolific though fictional Holovirus. So, if Omar Samir (Fareboulus Oyibo Rebel) recedes into the background, with no mention of treating him, lip service to using a nose mask religiously; it's fair to think Director Moses Inwang made this as a deliberate choice. Patients were locked down with snippers enthusiastic about fastening a bullet unto them. Marriage was broken; Kunle and Funke (Emem Inwang). Paths crossed and love ignited; Kunle and Angela. Trust was earned; Tony and Mr. Mathew Oche. The contract was won (Kunle and Sam) and in paying lip service to the medical issue at hand, Nurse Chiamaka died. Despite the heightened effect and close-up shot scene of her death, our grief was checked by our foreknowledge of her greed. Rather than feel for her, we probably hiss and say, 'she got what she expected' — of being 'an Igbo woman'.
The script was written by the trio of Moses Inwang, Jeffrey Musa David, and Melanie Oghene who attempted albeit unsuccessfully to give a documentary-esque of the heroic deed of Dr. Ameyo Stella Adadevoh. However, rather than doing that, it only managed to give a suppressed narrative of what lockdown patients, doctors, and nurses sacrifice in ensuring the safety of humanity.
Lockdown
is
streaming now on Netflix
.
Written by: Moses Inwang, Jeffrey Musa David, Melanie Oghene
Directed by: Moses Inwang
Lead Casts: Omotola Jalade-Ekeinde, Tony Umez, Deyemi Okanlawon, Ini Dima Okojie