Since the breakout of the novel Coronavirus pandemic, life everywhere on the planet has never been the same. Countries with huge numbers of infected persons are racing against time and economic disintegration to find a lasting panacea to the virus. Meanwhile, the infinitesimal numbers of countries less infected are surviving on the edge, waiting for the big bang amidst hope that it never reaches them. In all its globe-throttling, one thing is clear and that is the fact that after the pandemic eventually eases its grip, life will never remain as we know it.
Therefore, stakeholders and experts across all sectors are routinely on the lookout for safe ways to keep their industries in convalescence since business as usual seems like a tall wish.
The movie industry in Nigeria isn't left out either. As the government-imposed lockdown continues to ease gradually, stakeholders across the film industry chain including actors, producers, distributors, and more importantly exhibitors are deliberating on new ways to keep the cinema business alive while prioritizing the safety of their consumers.
The Cinema Exhibitors Association of Nigeria (CEAN) has over the past couple of weeks rolled out action plans in anticipation for the reopening of movie theatres and the exhibition of films. Use of thermometers for temperature checks, mandating the use of masks, social distancing in their foyers, and settling for half-filled sitting capacity among others are some of the guidelines they are putting in place in order to ensure that cinemas are safe for filmophiles.
Meanwhile, some stakeholders are considering a more adventurous approach to entertaining cineastes even as the scare of the pandemic remains prevalent. Just few days ago, two of the biggest players in Nollywood's Cineplex sub-sector announced plans to launch drive-in cinemas.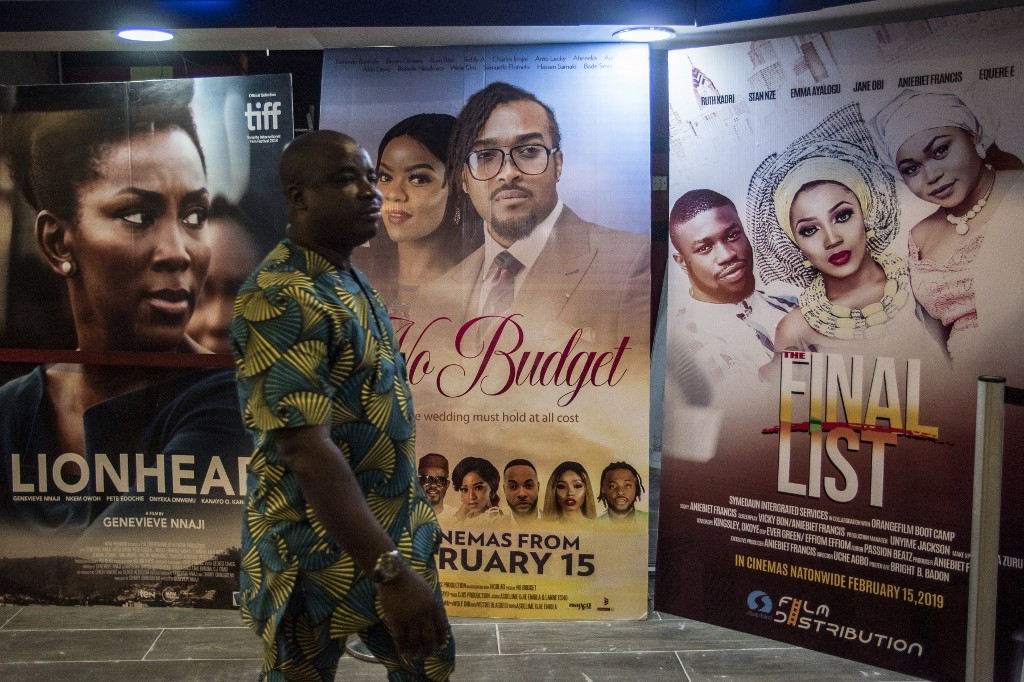 Genesis Cinemas, one of the leading cinema operators in the country
revealed last Saturday
that the enterprise is set to introduce their audience to a 'whole new cinematic experience' with drive-in cinema, charging them to grease their wheels. Earlier last week, Play Cinemas, the venture of filmmaker Charles Okpakaleke excitedly
disclosed the launch of its drive-in cinema
in the city of Lagos and the federal capital, Abuja. In fact, Play Cinemas on Wednesday exhibited the blockbuster, Living in Bondage: Breaking Free at its drive-in cinema sited on the premises of Transcorp Hilton Hotel in Abuja.
At the time of Play Network's announcement, the country has recorded not less than 5,000 confirmed Coronavirus cases with more than 150 people dead. Lagos, its primary focus doubles as the epicenter of the pandemic in Nigeria with more than 2000 confirmed cases. In Abuja, its alternative market, there have been more than 400 confirmed cases of the virus. These figures coupled with its tendencies to increase by the day, raise concerns as to the viability of drive-in cinema.
As Moses Babatope, the co-founder of Film One Entertainment, operators of Filmhouse Cinemas as an exhibition network puts it, "as much as it is a welcomed initiative because we across all spectrums are looking for ways to keep the audience engaged and entertained, my concern is without proper infrastructure, we might not get the desired result. Drive-in cinema is great but the technicalities revolving around it might be tough to put together. It's challenging."
Setting up a drive-in cinema truly requires a lot of infrastructural considerations. It is an outdoor exhibition. So, a location that has ample space for large movie screens, parking lots, and a hefty sound system among other things is needed.
Ope Ajayi, the Executive Director of Genesis Cinemas which is considering setting up a drive-in cinema affirms this. "We are working with a number of partners and we are working with more owners in selected locations across the country…we found ways to ensure that we keep our cost as minimal as possible". It doesn't help that the facilities for drive-in cinema which is an outdoor exhibition, from the screens to the sound systems can't be used in-doors. Therefore, pre-owned indoor equipment can't be substituted.
More so, drive-in cinemas have the challenge of instable weather conditions to contend with. Over the past few weeks, there has been increased rainfall particularly in Lagos and Abuja – both primary markets for drive-in cinemas – and this might not change in coming weeks. According to Weather Atlas, "between May and October, Abuja will receive high rainfall amounting to approximately 1,136mm across an average of fourteen and a half rainy days. The temperature remains high during the days at 30.50C before dipping to 19.30C during the nights."
The situation is not different in Lagos. The weather forecast noted that between April and October, the city will "receive heavy rainfalls with the wettest month being June with a high reading of 315.5mm in precipitation, collected from an average of sixteen and a half rainfall days."
When you couple this with the fact that moviegoers would have the state-imposed curfew to beat, it can only mean one thing for drive-in cinema exhibitors. That is a change of exhibition time which in itself leads to increased cost for a shortchanged viewing experience.
According to Rotimi Ojo, the CEO of 7-Eleven Drive-In Cinema, an enterprise founded solely on outdoor exhibition of classical films, since the existence of the drive-in cinema culture, nighttime has always carried the perfect aura to complement the emotions of open viewing. Therefore, changing exhibition time – which is inevitable – alters the fundamental sensation upon which drive-in cinema has thrived over the years.
"Because it's outdoor, we enjoy the coolness of the night that comes with it but because of this whole issue (Covid-19), we are forced to show films during the day and that leads to more cost on the part of the audience. The weather condition during the day necessitates them to turn on their Air Conditioners during the day. And if the AC in your car isn't working effectively, you're put under more duress because of the sun," he told The Film Conversation.
The pangs of increased cost due to the shift in exhibition time aren't only felt by moviegoers, even exhibitors are caught in between as they struggle to provide a more effective viewing experience for their audience thereby incurring more costs for themselves.
Ojo further explained, "we have to relatively do more including getting more efficient outdoor screens. Because of the sun, we had to get really good LCD Screens. So for us the cost has increased, for the customers, the cost has increased as well."
For the exhibitors, this increased cost of operation has led to a surge in ticket prices. 7-Eleven hitherto charges N1000 to N1500 per individual for a movie. The enterprise is still contemplating on how much to charge cineastes as its cost of operations soars. According to Ojo, the prices are definitely not going to be the same.
Play Cinemas, a new entrant into the outdoor exhibition space charges N5,500 per person, N10,000 for two and N12,500 for three people. Putting that into perspective, the price is more than thrice the cost of an average movie ticket in cinemas pre-Covid-19. In comparison to streaming services, it is almost twice the monthly price of chief-streamer, Netflix as well as Amazon Prime.
This brings to question the overall sustainability of drive-in cinemas. The subject of safety is a prime concern. The cross-sections of Nigerians who are willing and can afford the apparently hefty prices of drive-in cinemas are skittish and cynical about how safe it is out there. In any case, these categories of people are well-informed about the effect of the virus and are most likely not going to shortchange their safety for an abridged communal viewing experience. Coupled with the fact the closedown of business in the past few weeks has affected the income stream of a lot of people with businesses either downsizing or slashing salaries. Hence, people prioritize more existential needs before coming down to leisure.
These combined factors explain why 7-Eleven recorded an outright downward spike in the turnout at their outdoor exhibitions since the widespread scare of the virus.
Perhaps the most significant threat to the viability of drive-in cinema is the prevalence and relative affordability of in-home entertainment such as streaming platforms and the much-needed safety that comes with them. Since the stay-at-home culture became a thing, streaming has for the meantime become the recourse for a lot of people in providing entertainment and it has been doing pretty well at it if the soaring numbers of subscribers being recorded on streaming platforms are anything to go by.
Communal viewing is awesome. While music lovers congregate at concerts to share the feeling of amity in the music that binds them together, theatres are the playground for cineastes to bond over the action, sound and silence displayed on celluloid which gives them a mutual sense of belonging. However, these are unprecedented times, the end of which no one can predict just yet. Not a lot of people are willing to take chances and trade their health and wellness for a communal viewing experience especially when there are platforms that offer even more entertainment only without the congregational cackles of a collective watch.
Nevertheless, some drive-in cinema exhibitors unusually seem not to be driven by numbers. Their raison d'etre at this critical moment is to keep moviegoers entertained at all cost even if that means they will become more a non-profit enterprise than an actual business.
"Our overriding objective is not really economic gains or commercial viability as the case may be. It's more of the fact that we needed to stay in touch with our customers and as much as possible keep the film business going" reiterated Genesis Cinemas' Ope Ajayi.
In the face of these myriads of sentry posts, it's a long drive of a bumpy ride for drive-in cinema in Nigeria and you can only wish that it survives.
This Article was first published in May, 2020