Several minutes into The Razz Guy and few of my expectations were met already. The first; writer Egbemawei Dimiyei Sammy who also wrote the 2019 film, '3 Thieves'. wrote this script with Adeyemi Nosa Afolabi (Lasisi Elenu), the Instagram comedian with an obsession for Snapchat filters, in mind. Second; in comedic movies, didactic lessons if they exist at all are given less attention. And save for a few instances, comedians are always in harmony with their comedic selves onscreen.
Mr. Marcaroni's (Adebowale Adedayo) words in Ayinla didn't segue into his trademark 'you're doing well' words. A possible explanation is that Ayinla is a biopic and having Adebowale trailing off into a comedian lessens the story's significance.
Lastly; no doubt, comedians' words hold a fragment of truth and could occasionally evoke reflection. But, while Lasisi Elenu's comedy might hold a component of insightful comments, our admiration for the 'Agbero' in Broda Shaggi could dim his bright comments about life. So, in this clime, comedies aren't satirical and Nollywood has taken a cue.
In
The Razz Guy
, Temi Johnson (Adeyemi Nosa Afolabi ' Lasisi Elenu') is first seen in his sitting room reacting to a news broadcaster's solecism. "Ensure, not insure; Mr. Newspaper", he yelled. Lynne Truss (Eats, Shoots & Leaves) could have enlisted Temi into her grammar vigilante unit. Maybe, not so fast. Temi isn't obsessed with teaching the 'grammatical' usage of words, for him, it's an acknowledgment of his victims' folly while his pride bloats.
Months of repressed anger and resentment made three people snap their fingers at Temi. Pere, a colleague played by Ibrahim Suleiman, Eve, an intern essayed by Shalewa Ashafa, and a cleaner succinctly portrayed by Kunle Idowu ' Frank Donga' — who gives potency to the finger snapping. Losing his proficiency in speaking error-free English, the movie moves into solving Temi's puzzling situation.
Bimpe Johnson's English words were still answers to the Yoruba root of its speaker. Sin becomes Zin — an imitation of Jennifer's over-stressed syllable in the Funke Akindele multi-season series. Mrs. Akpan's name gave her away. She is Calabar; an uneducated one too. With her misplaced accentuation and hostility committed against words, one could understand Temi's dilemma. "Why should these people corrupt the 'judgmental ear' of my Nadine (Nancy Isime) my 'sugar boo'?"
The Razz Guy Editor, Iseoluwadoyin Emmanuel and Director of Photography, Kagho Idhebor's sequential long shots established the motive of the titular character played by Nosa Afolabi. Bimpe's existence was hidden from Nadine. Mrs. Akpan was lectured in the kitchen. Dare Johnson (Samuel Perry ' Broda Shaggi') wasn't encouraged to become a doll in Nadine's presence. However, even if Dare (Broda Shaggi) didn't display his chest onscreen, it doesn't mean the 'Agbero' in him is at ease. He will not be silent.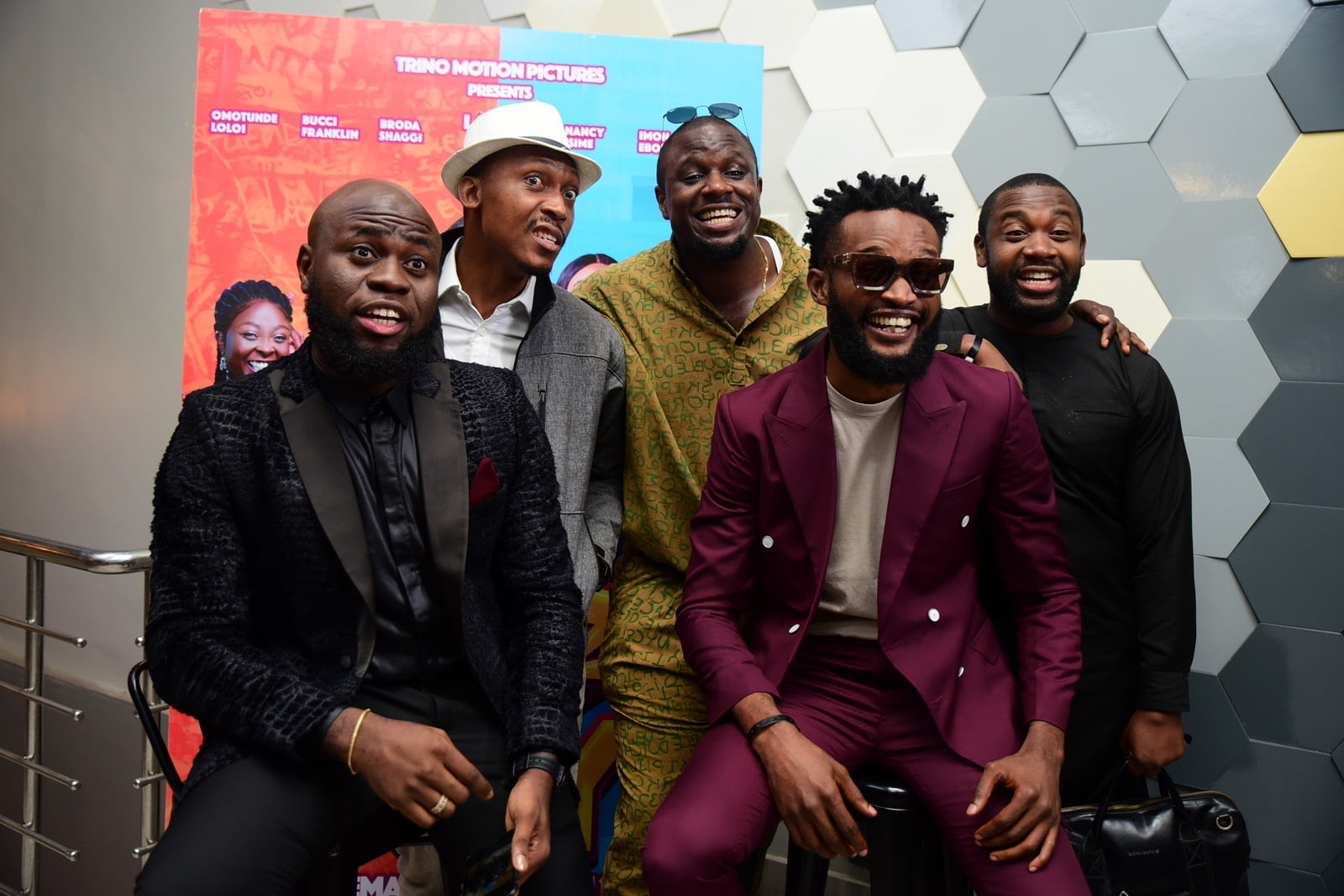 The Razz Guy
yearns to say something important but lacks the eloquence and clarity to do so. Much of its messages are too subtle to be noticed. They are mostly shadowed by its more prominent comedic overlay. Pastor/Prophet Wonder has two disparate 'hustles'. Temi's confusion on seeing the pastor still as the prophet wonder quickly dissolved due to the urgency of his situation. Doctor Jones (Charles Etuibiebi) is a typical Nigerian doctor with words that heightens the patient's anxiety. Save for the few hospital shots, one could doubt Jones being a doctor. The bandage around Temi's head is more or less a beanie. Without seeming to do so,
The Razz Guy
reiterates a message
Lagosians
know already; that Pidgin is a language for violence and the street; speak English to an Agbero (street urchin) at your own peril.
And the ultimate psychological message is to embrace your relatives as they are an extension of your identity. Offices aren't barracks and interns aren't soldiers waiting to be drilled into obeying ' the lat commands'; they are humans with voices and ideas. These are important life lessons that could probably get lost while watching The Razz Guy or gotten in hindsight if you are circumspect enough to reflect on it.
The Razz Guy is streaming now on Netflix.
Written By: Evbemawei Dimiyei Sammy and Africa Ukoh
Directed By: Udoka Reka
Cinematography: Kagho Idhebor
Lead Cast: Adeyemi Nosa Afolabi ' Lasisi Elenu', Nancy Isime, Samuel Perry ' Broda Shagi'